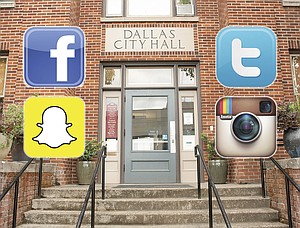 DALLAS — The city of Dallas' Administration Committee will examine possible rules for council members regarding social media use.
Committee members are slated to review guidelines and may make a recommendation at the committee's July 24 meeting.
At the committee's May meeting — the committee meets every two months — it recommended the city council adopt the policy governing non-city employee use of city-owned social media, and personal pages when employees identify their association with the city.

Committee Chairwoman Kelly Gabliks reported at the June 5 Dallas City Council meeting that since then, the recommendation had been withdrawn to make sure the policy doesn't violate councilors' First Amendment rights. She said that the policy could inform further debate on the topic.
"We wanted to see the council adopt a social media policy," she said during her report to the council. "We had a copy of what the city employees are required to adhere to. We really liked it and we voted to send that forward to make that a recommendation to the full council."
She said the committee will continue its discussion.
City Attorney Lane Shetterly, who was absent at the committee meeting where the discussion took place, said he wanted to make sure First Amendment rights remain intact.
"It was nothing specific, just being generally cognizant of the First Amendment and free speech rights and our ability to impose limitations on free speech," Shetterly said. "I wanted to be there, be more aware of what the conversations were so we could keep those First Amendment issues at the forefront of the policy."
He added the city policy — which addresses mostly how employees should use city-owned sites — doesn't translate well to how council members use social media.
The discussion stemmed from debate over a proposed rule requiring councilors to inform the entire council if they discover information about an employee that may influence council decision making regarding that employee.
That concern is a result of some councilors discovering from a newspaper article earlier this year that City Manager Ron Foggin had been a finalist for the city manager job in McMinnville.
Other councilors and the mayor had been aware because he asked them for references.
Councilor and committee member Paul Trahan proposed language for such a rule, but the committee decided not to move the proposal forward.
"What I think may impact a decision may not be what you think," Gabliks said in the meeting. "It's very subjective."
Councilor Jennie Rummell, who also serves on the committee, added that some personal information shouldn't be shared.
During the discussion, Councilor Ken Woods Jr. asked the committee to consider adopting rules that would outline councilors' social media site use, including limiting what he said were disparaging remarks posted by councilors about fellow councilors.

"I'm talking about people getting on Facebook and saying this city councilor is a bunch of crap and don't listen to them," he said. "They are doing stuff like that."
Decorum at meetings and outside meetings is addressed in the council rules, but they don't specifically mention social media. Woods said he would like to see a rule addressing social media.
Monmouth City Manager Scott McClure said the Monmouth City Council hasn't dealt with the topic, but he wouldn't be surprised if that changed.
He said before the rise of social media, communication with the public was typically through designated spokespersons.
Social media has changed that dynamic, which brings a host of new challenges, he said.
Not the least of which is abiding by public meetings law, he said.
"If you have a quorum of councilors commenting on social media, they've constituted a public meeting," McClure said.
Rummell also raised that as an issue that should be on the minds of councilors when interacting online.
"There have been instances where it comes awfully close to a group all commenting on the same thing," she said. "Although it's really open because it's social media, but we don't need to get into back-and-forth on Facebook."