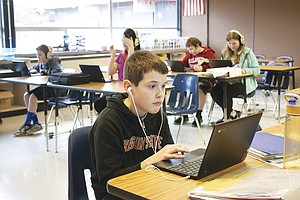 DALLAS — Photos of LaCreole Middle School Principal Jamie Richardson were plastered all over the Dallas School District boardroom last week.
The display, placed for all board meeting attendees to see, was in response to a special recognition Richardson earned this month: Digital Principal of the Year. It was a little embarrassing for him.
"It was kind of an honor, so I will give them that one time," said a camera-shy Richardson, smiling.
He and five other principals were awarded the honor by the National Association of Secondary School Principals.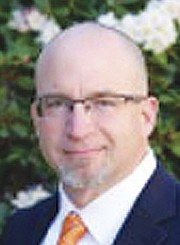 The award recognizes principals "for integrating digital media in their efforts to improve instruction, student achievement, and their own leadership."
Richardson said when he received the call from the director of the NASSP notifying him he has won the award, he wanted to ask, "Are you sure?"
"Not knowing how many applicants and looking at the people who gone before and won the award, it was just great to be in the running," Richardson said. "I didn't really expect it. There are so many other people in the country are doing great things."
Those who nominated him and selected the winner of the 2017 awards felt otherwise.
"The use of technology is a natural, integral part of everyday life for all parties at LaCreole Middle School," wrote Dallas Superintendent Michelle Johnstone in her nomination letter for Richardson. "Mr. Richardson is keenly aware of the educational needs of our 'digital natives' and how technology has shifted the way they think, learn and process information, and one of his goals is helping learners engage and make real world connection in this digital age."
LaCreole has a "bring your own device" policy that allows students to use their phones and tablets for school work — and doesn't shun technology use during school hours. The school is social-media friendly, with a Facebook page and Twitter and Instagram accounts showing what students are doing during class.
"We're cautious, but we are not afraid of what the outcomes could be," Richardson said. "When I look around, and what probably makes our school different, is we've gotten over that hurdle a little quicker."
Along with encouraging technology use, the school has put in place technology learning standards that stress creativity, innovation, communication and collaboration, critical thinking and digital citizenship.
Richardson said he and the school's teachers adopted use of technology slowly, incorporating it into the return of electives, which had been eliminated due to budget cuts during the recession.
"It gave us an opportunity to look at things differently," he said. "It been one of those things that has been really important to me, is how do get our kids a little more prepared to what they are going to face."
Richardson said the culture the school has created — which is ever-evolving — is in large part due to the teachers' willingness to try new ideas.
Using technology in the classroom isn't something teachers are necessary trained to do, so they are learning alongside their students, he said.
NASSP noted his leadership of that effort in its award announcement.
Teachers and students describe him as an exceptional advocate for technology and digital-age learning and a catalyst for implementing technology, makerspaces, and project-based learning programs," the announcement read. "Richardson ensures that all teachers get time to learn and discuss technology integration and that, through social media, parents stay connected to the school."
Learning with technology isn't a separate class, but integrated into all disciplines — which is engaging students in ways Richardson said traditional teaching can't always accomplish.
"Any day, you walk around our hallways and it's full of kids doing creative things," Richardson said. "It can look they're goofing off, but in the end, they are going to have a product that demonstrates their learning in different ways. The kids get excited about it, and when the kids are excited, we know they are learning more."