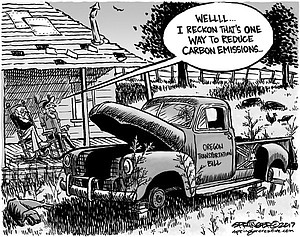 Good to see patriotic display
I would like to give a big "Kudos" (praise) to Stu's Auto Service and employees in Dallas for their show of patriotism and pride in acknowledgment of Flag Day on June 14. Our American flags proudly flew totally around the corner of Main & Ellendale streets at the site of Stu's. It was nice to see that some of us know it was a day to celebrate American history and independence. Shamefully though, I saw few other establishments flying our colors on that special day.
Patricia Utter
Dallas
Support made student trip possible
Twenty-nine students Falls City students got to experience Disneyland thanks to their own hard work and the generous support of local sponsors and community members.
This project and the Family Academic Community and Enrichment for Success, or FACES, after-school program could not sustain without the support of the community and we really want to thank them. Changes in priorities at the federal level make our community's support even more vital.
These local businesses generously sponsored the trip this year: Tim's Automotive Specialties, Dallas City, Cleaners, Robert Young Construction, Dogs 4 Dayz, The Bread Board, Salem Health, Elkhorn Timber, LLC
and Computer Solutions.
Countless community members purchased flower baskets, candy bars and pepperoni sticks. A huge thanks to Hamblins Nursery for working with us to fundraise.
Additionally, many kids washed cars, did yard work and completed projects around the area for people who donated money to the program.
We had so much support! Students learned and applied science and math skills while experiencing an extraordinarily memorable trip.
Lynn Bailey
Program Sustainability
FACES After-School program
No need for social media policy
I am responding to your editorial of June 14.
I don't want the Dallas City Council to write policy for councilor conduct except for council meetings and city-owned media. They are not playground monitors. Conduct outside of meetings is the responsibility of the voters. If we elect loud, rude and obnoxious representatives, perhaps we are just tired of business as usual. Whatever happened to celebrating diversity and tolerance?
Article 1 Sec. 8 of the Oregon Constitution protects freedom of expression, including your right as editor. If business can sell pornography, obscenity laws are abolished, and women can dance naked on a table in a bar and this is protected speech; I cite State v Henry, State v Ciancanelli and City of Nyssa v Dufloth / Smith, then what can a councilor do that is not protected?
Is there a limit to what conduct that the public will tolerate? I think Kathy Griffin would say: Yes.
Gary Weis
Dallas