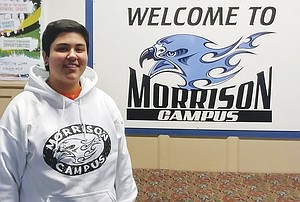 DALLAS — The crowd at Morrison Campus Alternative School's graduation ceremony June 14 cheers loudly for Nina Encinas as she approaches the podium.
Encinas, 17, is one of four speakers from the 30 students in Morrison's Class of 2017.
Not too long ago, Encinas wasn't certain she would graduate on time.
She said the school gave her that chance.
"Morrison helped me find myself again," she said during her address.
Morrison's graduating class
Malorie T. Alford, Katarina M. Annear, James A. Arnold, Colton Dean Bonnett, Tristan Taylor Bruno, Gage M. Burr, Natasha Faye Chaussee, Rawlyn Earl Chenoweth, Shayla Marie Day, Soren D. Domaschofsky, Nina Mary Encinas, Joseph Matthew Gallagher, Alicia Rose Ann Hofenbredl, Morgan Carissa Holbrook, Dakota Wayne Houston, Alexander Lee Hurtig, Elizabeth May Jones, Malissa Kanczula, Matthew Tyler Mann, Isaiah Porfirio Medellin, Charlotte A. Roth, Cierra Jolee Schulz, Austin Leon Smith-Shular, Duncan Andrew Elden Stebbins, Carrie M. Stepp, Ayisha Nicole Washington, Kianna Renae Washington, Myriah Leann Washington, Justice Webb, and Lance Aaron Young.
It is a common theme in the remarks her fellow graduates make about the school, which has a phoenix for its mascot.

When Encinas enrolled in Morrison her junior year, she has been out of school for a while and had just one credit toward her diploma.
"I wanted to get back in school because I knew I had to finish it up," Encinas said. "My sisters and brothers went here and they said it was a good school."
She gave high school another shot.
"I came here and tried it out," she said.
Encinas did more than try, she crammed four years of high school study into two years. The workload was intense and her graduation was in doubt until just recently.
When asked how she did it, Encinas gives a simple answer, but the hint of exhaustion in her voice illustrates that simple doesn't mean easy.
"Hard work," she said, sighing heavily. "I had to take independent work (classes) and that was a lot of work, every single one of those. I just focused on it. Especially these past two months."
Independent work classes condense study down to one month. Those were added to her core classes to ensure she had the necessary credits to walk on June 14.
During the final push at the end of the year, Encinas said she her quest for her diploma was coming down to the wire.
"I thought I was going to have to come back here," she said. "I wouldn't have minded it, but it's good to finish."
That said, Encinas said the morning before receiving her diploma that she wasn't sure she wanted her high school experience to be over yet. After 13 years of going to school, Encinas thinks it's going to be strange having to depart from that familiar routine.
Leaving the school that helped her graduate and restored her confidence may be even more difficult, she said.
"Everybody just likes each other. That good to be around," she said. "The teachers, they are not only your teachers. They are like your friends. Good friends, too. You can express yourself here. You can be yourself. I'm going to miss it a lot."
Encinas wants to take a break from academics for a year to work.
"I didn't want to go into college empty-handed," she said.
She's still making her mind up about college, or she may take a different route and enlist in the U.S. Army.
"If I'm going to go to college I kind of want to go to college for veterinarian," she said.
Encinas said there are a few things she wanted to remember to savor at her graduation ceremony.
"The memories about the good times," she said, "and the successes for everybody."