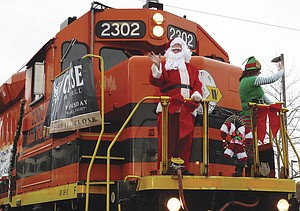 INDEPENDENCE — Cynthia Jaramillo will be moving to New Mexico at the end of June, and will be taking an Independence tradition with her: Santa Train.
"We did that for six years," Jaramillo said. "This would have been seven. Last year, we counted 3,800 people showed up."
The event, traditionally held on the first Saturday of December, brought children from all over Independence for presents, hot chocolate, and, of course, for a chance to sit with the Big Guy himself — who arrived in style via train.
Jaramillo, a train engineer, made the event — originally organized by the Friends of the Independence Library and on a smaller scale — something bigger than life, coordinating different organizations and businesses to donate toys, hot chocolate, or music. Even the Independence Heritage Museum played a role, always loaning the antique chair Santa Claus sat in while hearing the wishes of children.
"It's really sad, because I know the kids really depended on that train and those presents," Jaramillo said. "I don't mean to be selfish about it, but I don't want it to happen with this railroad."
Friends of the Independence Library board member Marilyn Morton said the tradition of Santa visiting the Independence Cinema will continue, but St. Nick will have to find a new way to travel — perhaps horse and buggy.
As Jaramillo and her wife, Donna, ready to leave Independence after 13 years, Cynthia has mixed emotions. They are heading to Farmington, N.M., which will be a homecoming for Cynthia, but Independence has become her family.
"I love this town," she said. "I like the people in it. I like that it's a community. It's not just friends, it's like family."
Cynthia said when you meet one person in Independence, it is as though you've met 100.
"That person knows 50 people, and that person knows 50 people, so it ends up everybody knows you," she said. "Donna and I fit in this group. Right away, people took to us. They loved when we were around. They want us to be around."
The Jaramillos had a big impact in Independence in their 13 years.
Cynthia was the first female exalted ruler at the Independence Elks Lodge, and she and Donna were the first gay couple in a lodge. While exalted ruler, Cynthia worked to open the lodge to more community events.
She took Ford Leadership classes while in Independence as well as ethics commission classes. She toyed with the idea of running for local political office. Cynthia was one of the delegates that brought Independence the title of All-America City.
Cynthia plans to get active in leadership activities in Farmington, too.
"I try and meet everybody," she said. "My father was the same way, because you never know if you're going to meet them again. That's what he told me. 'You'll never see them again.' But here, you meet everybody and they all know you."
To celebrate their love for Independence, Cynthia and Donna will throw a party at Chase Bar and Grill on Saturday at 3 p.m.
"I'm inviting the entire town," Cynthia said. "We're going to open up the parking lot, rope it off, have tables out there for the overflow. We'll play the jukebox for music. They're doing a menu just for us that day."