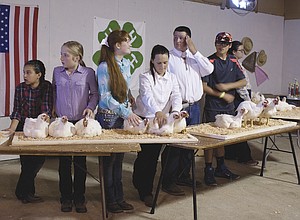 POLK COUNTY — In May, voters narrowly rejected a $10 million bond for county facilities maintenance.
On June 20, County Administrator Greg Hansen proposed a plan to address repairs and maintenance in lieu of the bond.
It included asking Public Works and Behavioral Health to cover costs at their respective buildings.
Behavioral Health is the largest occupant of the Academy Building, which was recently remodeled.
The Polk County Jail needs a new roof soon, and the money for that project would come from the county's general fund, Hansen said.
He said finding solutions for the historic courthouse and annex complex and the Polk County Fairgrounds & Event Center is tougher.
The courthouse complex needs an estimated $7.5 million to $8.5 million in repairs, according to a facilities analysis commissioned by the county.
Hansen said the fairgrounds has aging facilities and can't cover operations costs without help.
"When considering these facilities, the primary source of funding for any of these improvements will fall upon the general fund, which does not have adequate resources to address the necessary repairs without a serious disruption to the services we currently provide," Hansen wrote in a memo to the Board of Commissioners.
His proposal provided separate options for the courthouse complex and fairgrounds.
He recommended scaling back the $10 million bond to $8.5 million to address needs at the courthouses.
That would cost an estimated 16.5 cents per $1,000 of assessed value on properties in the first year, and average less than 15 cents over the 10-year life of the bond.
Hansen said the board didn't want to pursue that option in November this year, but would wait until 2018, if it decides to place a bond before voters.
For the fairgrounds, Hansen recommended exploring a permanent solution: A taxing district, similar to what voters approved for Polk County's Oregon State University Extension program.
Now, the fairgrounds facility needs help from the county to balance its budget.
"The (general fund) transfer to the fairgrounds is $75,000," Hansen said. "That could easily go to $250,000 before you know it and you're still not addressing things."
A taxing district charging a permanent rate of 10 cents per $1,000 would generate about $550,000, of which $250,000 could pay for operations.
The remaining $300,000 could be leveraged to finance repairing existing buildings or new construction.
County leaders will have time to weigh the pros and cons of the fairgrounds proposal, as it probably won't see a ballot until after a renewal of the public safety levy goes before voters in November 2019.
"This idea will require some research," Hansen said.