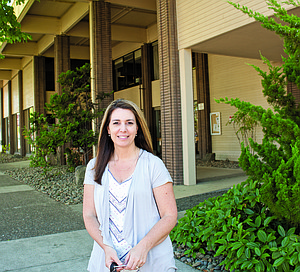 DALLAS — When Jodi Merritt saw the advertisement for Polk County's Community Corrections director position this spring, something clicked.
Merritt was working as a manager with Jackson County Community Justice and hadn't thought of changing jobs or moving.
"I had been in my last position for almost 10 years. And then working with Jackson County for 15 years, I was very comfortable," she said. "I needed a change, something to challenge me. I love to learn, I love to ask questions. I love to develop things and people."
She applied and interviewed for the job. She got a second interview and eventually a job offer.
"It just seemed so seamless," she said. "It was something that was a huge step out of the box for me because I was born and raised in Jackson County."
Merritt said she's still unsure how she will feel about the rain in the Willamette Valley, but is impressed with what she's seen of the department that will be hers starting next week.
"Here, everybody just works together. It's not about our own agency, it's about the client, which is how it should be," she said.
Merritt worked for Jackson County, first in the juvenile program before moving to a program supervising adults.
From there, she took a job with the county's parole and probation program. In her last post, she was a manager working on grant writing and with the agency's community partners.
Merritt started in Polk County at the beginning of June and is still learning how the system works.
She's encouraged by programs like the county's new mental health court, which she believes is a good response to a growing issue in law enforcement.
"I don't know what it is, maybe we've ignored it previously, but it just seems more prominent," she said. "We are kind behind the curve, but with the mental health court and the programs that are in place here and the way things are designed, I think that they are staying on top of the curve."
Merritt believes the job is about holding people accountable, but also following that up with helping clients make better choices in the future or helping them navigate the challenges life throws at them.
She believes probation officers sometimes act as law enforcement officers and other times as social workers.
"Sometimes you have someone sitting across from you who's made a mistake, or they've used. They don't always need to go to jail," she said. "I think our job is important to not only protect the community and try and support the criminal justice system, but to support them."
She said she will take some time to figure how best to do that here.
"Really, I think that my plans are to work with the staff here and the administration to see what their vision is for the department," she said. "I'm used to the Jackson County way; I need to learn the Polk County way."