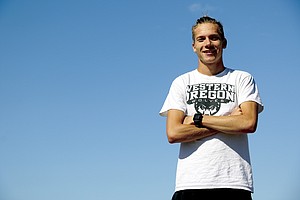 MONMOUTH — Western Oregon junior cross-country and track runner David Ribich had a stellar 2016-17 school year.
Ribich won a pair of national championships in track and field, and set numerous conference and school records.
He can add one more accolade. The Great Northwest Athletic Conference's athletic directors voted Ribich as the GNAC Male Athlete of the Year.
"I think it's pretty cool," Ribich said. "Throughout the GNAC there are a lot of high-caliber athletes and professional-caliber athletes that could have easily received this award. I was fortunate enough to get it. It's crazy. We tend not to work for these things. We work for our own personal goals, but this is really cool to see the recognition. It's an incredible honor to receive this award."
Ribich's success during the cross-country, and track and field seasons helped him stand out.
"Conference Athlete of the Year is a great honor," WOU cross-country and track and field coach Mike Johnson said. "David is so consistent, not just in running but in all that he does. He is very intentional. We are all so pleased that David has received this truly special recognition."
Ribich's cross-country season was capped off with a 15th-place finish in the NCAA Division II West Region Championships in Billings, Mont., last November.

During the indoor track season, Ribich was part of the distance medley relay team that won a national title at the NCAA Division II Indoor Track and Field Championships.
Ribich ran the anchor leg in a thrilling race that saw WOU edge out Western State at the finish line with the fastest time in Division II history.
At the NCAA Division II Outdoor Track and Field Championships, Ribich won a national title in the men's 1,500-meter run.
Most recently, he competed at the USATF Championships in Sacramento, Calif. on Saturday where he took ninth. Ribich was the only Division II athlete in the race.
Once there, he had some surprise visitors come to cheer him on.
"I traveled with our assistant coach, Brady Beagle, and Johnson drove down," Ribich said. "Then, when I get there, my roommate, Zach Holloway, walks through the door. Once I made the final, my mom drove like 17 or 18 hours down from Sacramento and surprised me by picking up Zach's mom because she wanted to go. I didn't know it, but my girlfriend Olivia came as well. It just surprised me to see people support me like that and dedicate their weekend just to watch me compete. The words I received from other Division II athletes whom I've never met before were incredible."
With the 2016-17 school year officially behind him, Ribich has had a little time to truly take in all that he — and the track and field team as a whole — accomplished, but it won't be long before he resumes his training for the upcoming cross-country season.
He hopes to make his final year with the Wolves his best one yet.
And when the going gets tough, it will be those who have supported him and given him encouragement that will keep him driven and motivated to succeed.
"That's the driving force that makes me stay confident in my abilities and working hard, because I want more," Ribich said.