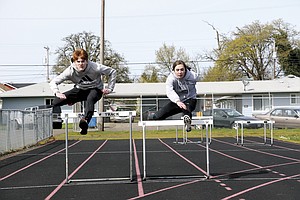 DALLAS — The Dallas School Board voted to build a new track at Dallas High School in conjunction with a project to raise private money to install a turf football field.
The project is estimated to cost $237,000, and would be contingent on the Dallas Booster Club's success in raising the $850,000 necessary to build the new field.
Without installing the new track, the football field must be raised on one side to provide for proper drainage, leaving a drop off of 2 or 3 three feet on one end of the field between the turf and track.
Board Member Mike Bollman said Monday that is less than ideal.
"I had this picture of one of our players or the other team going into catch a touchdown pass and trying to get both feet in, coming right to the edge and dropping off this 3-foot wall," he said at the board's regular meeting. "I thought, that's not good. Our track life is nearing the end within a couple of years. It just seems like it might be time to discuss an option for the future."
Superintendent Michelle Johnstone said the district has money set aside for long-term facility improvements available.
"That leaves us sufficient funds to be able to cover that cost," she said. "We do have the money to do it."
Bill McNutt, the consultant working with the booster club on the field project, said having the district support the track replacement makes the field an easier sell to the public.

"What I've seen as we've talked to the community, they would love to see this phase done by the school district," he said Monday. "I think it's critical for us, in our fundraising process, to be able to tell your community that you are committed to doing the track as long as we can get the inside portion done."