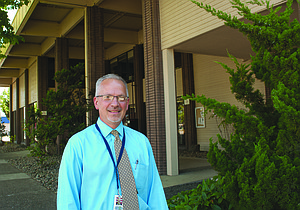 DALLAS — One of Marty Silbernagel's favorite events of the year is Polk County Community Corrections annual pizza party in October.
The occasion celebrates those people who have graduated from probation and are now leading healthy, productive lives. Each year, invitations for the reunion are sent out to former clients of the office.
"They look forward to it. I take a group picture and post it on my office door," said Silbernagel, the director of Polk County Community Corrections. "It's a reminder to the POs (probation officers) and myself that this is what we are doing."
Silbernagel has been doing the job in some capacity for 29 years — in the community service, and juvenile or adult supervision programs — and is now the director of all three.
Silbernagel is turning in his badge Friday, making the difficult decision to end a career he's loved and stepping away from his "work family."
"I'm not retiring because I don't like my job anymore. I'm retiring because I've done this long enough, and I'm ready to do something else fun and exciting," Silbernagel said. "It's not going to be easy for me to leave, but it's good. It's good for me. It's good for everybody."
—
As a freshman at then-Western Oregon State College, Silbernagel wanted a physical education instructor or coach.
"I was a horrible student. Horrible," he recalled last. "I played basketball my freshman year at Western. It was very time-consuming and my grades suffered because of that, and the fact that I was never a good student. I needed to raise my grade- point average."
He heard of a class called "introduction to criminal justice careers," where students toured and observed various criminal justice institutions and wrote reports about the experience. It was an easy "A" he was told.
More than a GPA booster, the class altered the course of his education and career.
"I thought, this is kind of interesting, so I took more corrections classes," he said. "I changed my major."
After graduation, he briefly worked a part-time job in Marion County before taking the post as the community service coordinator for Polk County in April 1988.
He held the position for just over a year when it was cut from the budget. Silbernagel has seniority over the other three employee whose jobs were eliminated, so he was offered another: Juvenile probation officer.
"I thought, 'Oh lord. I don't want to work with kids.' But I did it. I was young and thought 'I need a job,'" he said. "I loved it. I did it for almost eight years."
He applied for community corrections director without thinking he would get it. He was only 31, but got the job.
"I was the youngest director in the state of Oregon," he said.
—
He's been with the county long enough of have worked in an infamous community corrections building that once stood where Murphy's restaurant is now.
"It was commonly referred to as the 'rat building.' Why? Because there were rats in it, live rats," he said.
That building was demolished, and that isn't the only thing about the job that has changed for the better in 29 years.
When he started, probation officers felt their role was to supervise and punish.
"They needed to lock people up that did wrong," he said. "Over time, the evolution of parole and probation has made a 180-degree turn in that it's not so much that any more. It's rapport building with offenders."
He believes that approach — helping offenders improve their lives holistically — is more beneficial to those the office supervises. POs learn about each person's life, the problems they face, with the goal of helping them not just successfully serve their probation, but change their lives for the better.
"We here at community corrections and at the juvenile department treat these people as human beings, as they are, and hold them accountable," he said. "It goes a long way in terms of how much are they going to progress and be successful at what the court has mandated for them to do."
Friday is Silbernagel's retirement party, from 2:30 to 4 p.m. at his office.
He said he will miss his employees, fellow county workers, court judges, attorneys and staff — and the people he's supervised over his career.

"I'm going to miss the celebrations of drug court, or mental health court, or somebody getting their driver's license or coming in and saying they got a job," he said.
In retirement, he won't allow himself too much time to spare. He plans to volunteer, work part-time at Wilco and farm on the side.
"I won't be a couch potato. Retirement is not for me in terms of sitting and letting life pass by," he said.
For Silbernagel — who hasn't called in sick once in his career — the new routine may take some getting used to.
But he walks away thankful for the experience.
"If I had to do it all over again. I wouldn't do anything different, absolutely nothing," he said. "I've been very fortunate that Polk County has given me the opportunity."