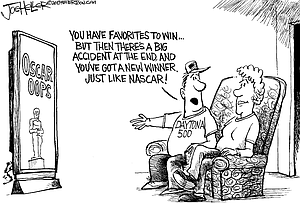 Light is better, cheaper solution
Lynne Bowen's comment about the plan to construct a roundabout at Clow Corner and Highway 99 at quadruple the cost of installing a traffic light was right on given that a traffic light would serve the need (however, teaching pedestrians in Oregon how to cross a street safely is still an issue). It is truly amazing how little control taxpayers have over elected official's careless decisions to waste money.
It's equally amazing that the issues that come to vote are so carefully henpecked by the powers that be.
Jessie Rice
Dallas
House set to roll back tax limits
The elderly on a fixed income will be harmed if the Oregon Legislature passes HJR 3 and then acquires voter approval to remove current property tax limitations.
According to Bankrate.com, Oregon is the third worst of all 50 states for retirees. One reason is high taxes. HJR 3 removes the property tax limitations of Measure 5 and Measure 50.
It increases the tax cap by 20 percent and also bases taxes on market value rather than assessed value. If passed, your property tax bills will skyrocket by thousands of dollars. Many elderly on a fixed income are unable to afford such a dramatic tax increase on their homes.
As a result, they may lose their homes.
Your local legislators need to be made aware of the devastating draconian impact on fixed income elderly people. Please contact your legislators and Gov. Kate Brown to voice your opposition.
Steve Mannenbach
Dallas
Yeager weaves fabric of Dallas
Woven into the fabric of any community, there are many strands of thread that quietly comprise the garment. But as you look closer, you begin to notice one strand that stretches throughout the entire piece of fabric and holds together or touches so many other strands.
I believe that is the analogy here with Jinett Yeager and the clothing closet. Many lives in the Polk County area have been impacted by this program. Children pulled from drug homes now have clean clothes to wear.
Foster children, and the families who care for them, now have clothes, and even toys, or a Merry Christmas they may not otherwise have, and the story continues.
Jinett, your sincerity and warmth to others has been an inspiration. You saw a need, and literally on faith, reached out to those in need.
It has been a joy over the years to work with you and partner in this important community program with Operation T Shirt and Toys. Keep it going. Continue to be that inspiration to others.
Operation T Shirt will be there with you as you reach out to more children, teens, and families in need, in the coming months.
Congratulations Jinett. Well done.
Paul Pfinster
Operation T Shirt
Dallas
Border wall would be useless, waste
No money for schools, so the state has to sell public land.
No money for roads and highways, so we are stuck with inadequate and potentially unsafe bridges on major interstates.
No money for infrastructure repair and improvement over the past eight years, but, wow, we do have enough money to spend on a useless wall.
A wall that will cost double the $12 billion that is stated, and require ongoing maintenance that will run in the hundreds of millions, if not billions of dollars every year.
"The wall" will not prevent those who are willing to work harder from getting jobs. This wall will not make us safer. Far more people die on the roadways of America every single year than have died in terrorist attacks on U.S. soil, ever.
Just ask the Chinese how well their wall protected them.
That wall took well over 200 years to construct, most of it is now returning to dust, and the little bit that is celebrated is nothing more than a pretty tourist attraction.
The only people who will do well on this "wall" are those who are awarded over-priced government contracts to build it and maintain it.
Do not fool yourself into thinking someone else will pay for this wall.
We will pay for it in taxes, added costs to goods and services, a slump in our agricultural economy, in environmental degradation, and in personal hardship.
It is my belief that politicians of all parties and stripes should cowboy up, and actually tackle comprehensive immigration reform sooner than later, rather than demonizing "the other" for the sake of votes.
That would cost a lot less than building "the wall," and will not saddle our children's, children's, children with the damaging costs in dollars and animus.
Danny Jaffer
Independence
Roundabout bad idea on rural road
I would like to comment on, and agree with, the letter to the editor in last week's newspaper by Elizabeth Smithson.
She was writing about the proposed roundabout at Clow Corner and Highway 99W. In that letter, she mentioned the roundabout on Springhill Road in West Albany.
I had an experience with that one that I would like to share.
One day as I was approaching that particular intersection, an 18-wheeler was towing an empty Low Boy trailer and was coming from the west, turning north onto Springhill Road. As he was making that left turn, the bottom of the trailer scraped the reflectors right off the top of the roundabout.
That roundabout has since been removed and put back to its original layout.
I wonder what that cost the taxpayer, first to put it in, then again to take it out.
Going back now to the Clow Corner proposal, just think how many 18-wheelers, combines, swathers, and other large agriculture equipment use that intersection each year.
Will a roundabout make it safer for those equipment operators or the motoring public that encounters them?
Will they actually be able to get around on it?
Think of how slow they will have to go just to get through it and how much that is going to backup traffic.
Think back to when we would see a convoy of four or five swathers going down 99W and how traffic would be so backed up.
Now imagine them trying to get through that roundabout and how much worse the backup is going to be. Remember this is a very active agricultural area.
I must admit that I do not want a traffic light there, but I really don't want to see a roundabout put in.
Don Hein
Monmouth