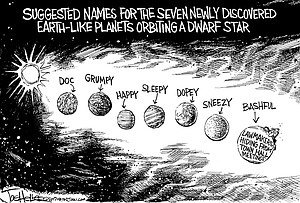 We've seen it happen. A young boy is playing with his friends at a city park. He falls off the slide, and limps back to his mother who puts an makeshift ice pack on his knee, which is scraped and swollen.
He doesn't need the doctor — mom doesn't think he's broken anything this time, thank goodness — but he's out of commission for the rest of the day, resting with the adults under the shade of the gazebo.
It wasn't the slide's fault the boy fell off. It's not as though it had gaping rusty holes. It wasn't even wobbly. But children sometimes fall.
When they do, often it's because they are exploring the world around them.
Adults aren't immune to injury, either. With the miles and miles of walking trails throughout Polk County and its cities, adults could fall victim to a twisted ankle.
The question is: Whose fault is it? When someone is recreating outdoors and gets injured, is his or her accident something the city or county or private landowner should have to pay for in court?
A recent ruling by the Oregon Supreme Court says it might be.
The court struck down recreational immunity in a 2016 decision after a sight-impaired Portland jogger was injured when she stepped in a hole dug by a parks department employee. The court ruled that the employee was liable — which makes the city, which pays for the employee's insurance, liable.
It's a tricky situation. If a city or other government agency is negligent in maintaining its public spaces, it makes sense that a lawsuit should be filed — and maybe won.
But we need to err on the side of caution when it comes to suing cities for injuries obtained at public spaces, or we could see the public spaces disappear.
Two identical bills have been introduced in the Oregon House and Senate to address the issue, clarifying that employees or agents of landowners are covered by recreational immunity when acting in the scope of their duties. But one Sentate Bill (504) would allow people to sue for negligence if the property is not properly maintained.
While that seems like a good compromise between landowner and land user, it is a slippery slope. It requires agencies to create and follow a "safety plan," something that probably already exists under a different name. This bill would create more red tape for public landowners — and may make for more rules for land users, too.