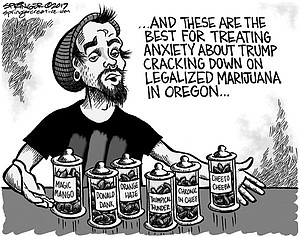 We still have a long way to go to healing as a county, state and nation after the recent polarizing presidential election.
During a visit from Gov. Kate Brown to Ash Creek Elementary School on Thursday — as part of Read Across America — she told students about a recent trip to Washington, D.C., where she took a picture with President Donald Trump.
The children jeered.
In the same day, a photo of the governor reading to kids garnered comments on our Facebook page such as, "I would have kept my kid out of school that day," and other politically charged rhetoric.
We wonder what kind of climate we live in when it is wrong for the governor to read to kids, and the president can be booed by school children without anyone counseling, "Remember, he's our president."
We understand that a lot of the sentiments for both Brown and Trump likely stem from each's track record. People have strong feelings when it comes to politics — that's why it's on the list of things you're not supposed to talk about with friends (politics and religion).
Gov. Brown missed an opportunity Thursday morning to lead by example when it comes to the way we need to treat people who do not share our opinions. At the same time, it's an honor that the woman who holds the highest political power in the state of Oregon chose to come to Monmouth's Ash Creek Elementary School on Dr. Seuss' birthday, when she would have been welcome at any school.
It's clear from the comments online and letters to the editor that children are paying close attention to what is said at home — or in the classroom halls. They are absorbing their parents' biases and agendas. It's great to have kids aware of social issues, but let's help them learn the basics of getting along in this world — how to share, how to play together, laughing together, playing video games and running outside.
It will prepare them to be better leaders than we are or have now.