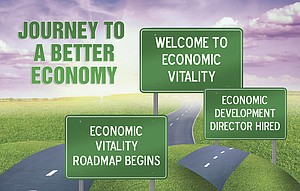 DALLAS — The Rural Economic Vitality Roadmap process started in Dallas in September has grown up and is ready to forge ahead on its own.
The project — begun with guidance of Rural Development Initiatives, an organization helping rural communities through leadership and economic development programs — now has a coordinating committee of local leaders and a set of goals to work toward.
The effort is now known as the Dallas Vitality Connection, and on Feb. 28, group members gathered to celebrate accomplishments and stake a path into the future.
In September, the process began with information gathering.
"We had focus groups, we had a community survey, we had town hall meetings," said Mary Bosch RDI's director of economic vitality services. "We added up all the people, and since the month of September, about 130 people participated at some level."
Those people helped identify three areas needing work in town: supporting small businesses, community marketing and property development. Community members formed three "action teams" to address those issues — some of which have already held events or are planning future events.
The small business support group sponsored a "holiday pop-up shop" at Pressed Coffee & Wine Bar late last year and is in the process of creating a historic downtown walking tour brochure. Emma Guida, who also works with the Dallas Downtown Association, is the team's chairwoman.
Community Marketing, nicknamed "The Marketeers," has a key goal: Bring people to Dallas.
With that in mind, it is working on setting up a disc golf-themed "family fun day," and later a full-scale tournament on the course in Dallas City Park.
"We wanted to take something that is already within our community and build on that. All of us agreed that we have a great disc golf course in the park," said Tammy Noon, the co-chairwoman of the "Marketeers." "There's also a couple of groups that do disc golf tournaments, and they do call Dallas home. We are trying incorporate all that and put together an annual tournament."
More behind-the-scenes is the property development effort.
This team is working to make vacant or under-used commercial properties ready for business tenants and putting owners in touch with resources, such as the city's facade grant program.
Spearheaded by co-chairmen Mike Arras and Rich Wolcott, the team is in contact with the owners of with three properties on Main Street: The former Zumalogic building next World Gym; the former Dallas Super Market; and the former Guy's Hardware store.
Dallas Mayor Brian Dalton, who is working with the team, said successes in filling those major vacancies can create a "domino effect," making an environment where people want to do business.
Bosch noted the team needs to be especially patient and persistent.
"There are no quick fixes there," she said. "This is a group that has to stick to it."
Dalton added that help may be on the way soon as the city is looking for an economic development director.
"(Dallas City Manager) Ron (Foggin) does a really good job of hiring people, and I think we are going to have a really stellar person in that job," Dalton said. "That's going to help a lot."
Bosch said RDI is backing away from facilitating meetings, but will still provide resources to the group when needed.
Stepping into the leadership role is a coordinating committee of chairman Scott Noon and members Tammy Noon, Guida, Nancy Adams (chairwoman of the Dallas Economic Development Commission), Wolcott, Arras and Greg Ellis (the former economic development consultant for Dallas).
JD Shinn, the chief executive officer of the Dallas Area Chamber of Commerce & Visitor Center, said he's encouraged by the enthusiasm the Dallas Vitality Connection has shown so far. He said it stands in contrast to "the word on the street" since he started with the chamber in October.
"I was hearing a lot about 'there's a lot of talk and no action.' One of the things that I've been just thrilled about is that this group is proving that to be not true," Shinn said. "There is action going on in every group, everybody's really jumped in and taken action."