Wednesday, March 15, 2017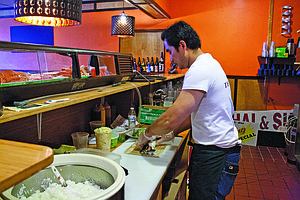 DALLAS — The owner of Zen, the new Thai and sushi restaurant in Dallas, wasn't expecting to be so busy so soon.
Montree Navan opened the restaurant at the corner of Jefferson and Washington Sts. on Feb. 24 and already has a "help wanted" sign on the door.
"Right, now we are still hiring chefs," he said. "We need more chefs."
Check it out
What: Zen Thai & Sushi
Where: 184 SE Washington St., Dallas.
Hours: 11 a.m. to 3 p.m.; 4:30 to 9 p.m. Monday through Friday; Saturday and Sundays 12 to 9 p.m.
Contact: 503-831-1286
Of note: Zen is hiring sushi chefs.
Sushi chefs, to be exact.
Navan said it normally takes time to have customers streaming through the doors like they have been during the first few weeks the restaurant has been open, but he's not complaining.
"I'm lucky," he said with a smile.
Navan said he moved to Dallas because he liked the quiet atmosphere. He previously owned restaurants in the Portland area and worked in restaurants in Florida before moving to the Northwest.
"I saw this place was empty, so I talked to the landlord," Navan said. "I like small towns."
The restaurant, in the former Chen's Family Dish location, is far from empty now. Menus are placed on the tables, awaiting customers — usually that wait isn't long, Navan said.
Zen offers lunch and dinner menus with a combination of Thai cuisine and sushi, including Thai curries, soups, seafood noodles and rice dishes.
Sushi options include California rolls, spicy tuna shrimp tempura rolls.
Navan said one of the more popular orders shows off the best of both. Customers can order three pieces of sushi and a Thai dish of their choice.
"If you come together, two people, one likes Thai food the other like sushi, you can enjoy it together," he said. "It's really popular on the menu."