Wednesday, March 15, 2017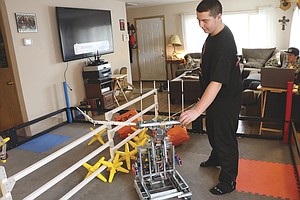 DALLAS — Kahl Murdock loves sports. He loves playing them, watching them, competing and being part of a team.
But when he injured his ankle his sixth-grade year of football, he needed something to do. That turned out to be robotics.
"I've always loved building things," Murdock said. "I built things using K'Nex and Erector Sets. I have all these structures I built like the Eifel Tower and helicopters."
Kahl's mom picked him up a VEX IQ robot kit (which uses plastic parts) and he immediately got to work.
By his seventh-grade year, Kahl won state and advanced to worlds, where he finished 90th out of 400 competitors.
Now in eighth grade, Kahl has made the change to VEX EDR robotic kits which uses metal parts and has begun competing for Dallas High School's robotics team.
"I thought I was going to do terribly," Kahl said.
Instead, he won multiple tournaments where alliances try and outscore their opponents by scoring stars and cubes in zones on the playing field.
"I spend about 20 hours a week working on my robot," Kahl said. "It went through multiple stages until I arrived at this design, and this is the third or fourth version of that."
Kahl competed at the state championship on Friday and Saturday at Chemeketa Community College, but failed to grab one of the automatic berths to the world championships.
He did, however, earn a robotic skills berth on Monday for the VRC World Championships held in Louisville, Ky.
It's an opportunity Kahl is grateful to get to experience, especially after seeing what the World Championships can be like last year.
"Robotics doesn't sound like fun until you go to a competition and you see the crowds and how many hours people spend working on it," Kahl said. "At Worlds, you walk into the arena and thousands of people are chanting and cheering. It was super cool."
Now, he'll get another chance to compete against robotics teams from around the globe. Not bad for something he only discovered two years ago.
"In football, if you play against a better kid, you learn and improve," Murdock said. "This is kind of the same thing."