Wednesday, March 15, 2017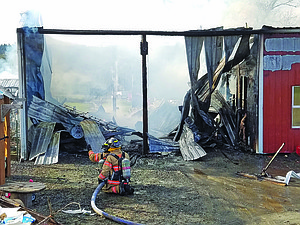 DALLAS — This May, voters in Southwest Polk Rural Fire Protection District will weigh whether to approve a 15-year, approximately $5 million bond for stations, fire engines and equipment.
Southwest Polk's board approved putting the question before voters on Monday night.

"I figured it out, it's going to raise my taxes about $1,000 per year on my property. I'm willing to pay that for fire protection," said Frank Pender, a board member.
He lives about five miles outside of Dallas on 80 acres of forested land.
"We've had the services of Southwest Polk several times in my 37, 38 years of living up there," Pender said. "It's getting to the point where we don't have services, as far as the equipment, to do the job.
"I know it's hard on all of us," he added.
The bond would pay for replacing the district's aging Rickreall station, adding sleeping quarters and a classroom. A long-standing goal, the Salt Creek station would be built.
"It will decrease our response times to Highway 22 incidents and potentially increase volunteers in the Salt Creek area," said Chief Fred Hertel.
Old fire engines and emergency vehicles will be replaced.
"Our current fleet is at or nearing the end of its emergency service life," Hertel said. "We are starting to see reliability issues and increase in upkeep costs."
Communications equipment and breathing units required for firefighters to enter burning structures would be purchased with the bond.
"Without that equipment, we will no longer be able to make entry into a burning structure for rescue for firefighting activities," Hertel said.
He added, if the district became a "non-entry fire department," residents likely would see an increase in insurance costs.
The bond would cost district residents 69 cents per $1,000 of assessed value on properties.

Board member Rod Watson said if nothing changes in a few years, the district will be running in the red.
"We are not able to maintain the service that we already have," Watson said.