Wednesday, March 29, 2017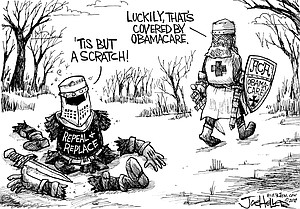 Existing building better for center
I don't understand the thinking of the person or group that overlooked the empty buildings and properties available in Dallas, and settled on the small space behind the Carnegie building on Church Street for a new senior center — a building that will need an elevator, and no parking for its patrons.
The Plain & Fancy building would have been an excellent location. Look at the parking available, and the exposure it would have gotten. What about the empty lot on the corner of Church and Mill — easier access — RadioShack building.
I am not a member of the senior center at this time, so I can only report what I have heard from the general public, that because of a timeframe, the grant money had to be used or it would be lost.
Losing the grant and applying later may have made more sense than purchasing a site that is too small for the purpose intended. What were they thinking?
Sounds like the cart went way ahead of the horse. Are there secret plans to tear down the Carnegie that the public is not aware of? Does the city of Dallas not want to sell any of its property for this purpose?
For Dallas, in my opinion, a remodel on an older building would have fit in better.
Barbara Whitlow
Dallas
Foundation supports James2
We at James2 Community Kitchen would like to send out a big thank you to the Dallas Community Foundation for the grant we received on March 9. By receiving this generous grant, we are able to help feed over 4,500 people locally in the Dallas community throughout the year. This grant enables us to purchase fresh produce, vegetables and meat for the people we serve.
For those of you not familiar with James2 Community Kitchen, we are a nonprofit organization where volunteers cook and serve free meals every Tuesday at St. Philip church and every Thursday at Dallas United Methodist Church. The meals start at 4:30 p.m. and are served until 6 p.m. at each site. We are solely funded by donations and grants.
Falls City volunteers also prepare and serve free meals on the second, third and fourth Tuesday of every month from 4:30 to 6 p.m. at the Falls City Methodist Church.
Come by any of the sites and enjoy a nutritious meal. Bring your neighbor and enjoy an evening of socializing while dining. We even do the dishes.
Loretta Hodous
Dallas