Wednesday, March 29, 2017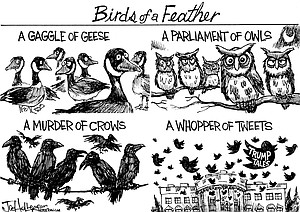 In the last few months, we've noticed an uptick in citizen involvement at local council meetings.
Councilors, mayors and city employees have noticed, too, because it has meant some meetings run longer than those governmental bodies are used to.
As Monmouth Councilor Jon Carey said in the March 21 council meeting: Participatory democracy is a slow deal.
Oftentimes that's true. Monmouth councilors agreed to consider an inclusivity resolution — which they will vote on at their April 4 meeting — after hearing comments from citizens and Western Oregon University students since January. At first, requests to declare Monmouth a "Sanctuary City" failed. Once the focus turned to a strong statement about inclusivity, councilors were open.
As Councilor Tom Steinke said, "... We're such a nice town as it is."
Mayor Steve Milligan said he has been working on welcoming resolution of some sort for the city of Monmouth — as well as broader efforts countywide — since about 2011, when he was a Monmouth city councilor. It wasn't until the residents got involved that a resolution is coming before the council. Whether or not the council approves the resolution remains to be seen, but the fact that they will consider it is progress.
In Independence, residents are appealing business plans for marijuana growing and processing operations. A neighborhood does not want this kind of business near their borders and have gotten involved in the process.
A movement was attempted in Monmouth recently to curb marijuana retailers, but failed, mostly because of the timing. We'll see if Independence residents are too late to intervene at this point, but in 2014, when recreational marijuana was legalized, the city of Independence was the first to establish a tax on the drug. Councilors were open to the idea of welcoming medical dispensaries and recreational outlets. It wasn't until Independence residents started speaking out about marijuana related businesses that the council paused and made stricter zoning laws.
In Dallas, the council was ready to approve a new business registration. Councilors had discussed it at length, and they were ready to move forward until residents and business owners got involved and spoke against the policy.
Now, our county, cities and school districts are heading into the heart of what we like to call budget season. Many important decisions will be made about infrastructure, services, utility rates, and staffing. We know budget meetings aren't always the most interesting, depending on your point of view, but they are incredibly important. All the money our local governments are spending comes from our pockets — it's all taxpayer dollars.
Pick up a copy of the budget in your city or school district, or from the county. Read through the budget messages. Ask questions. Stay involved.