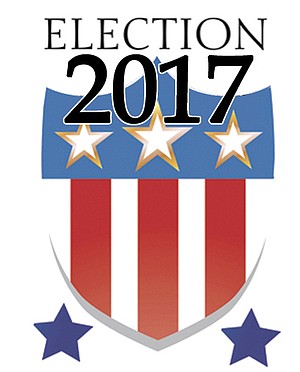 INDEPENDENCE/MONMOUTH — Central School District Board of Directors has five seats up for election on May 16. Zones 2 and 5 are contested. In zones 4, 6 and 7, the incumbent is running for re-election.
Central School District
Zone 2
Peggy Clyne
Occupation: Corvallis School District, teaching and learning administrative assistant III
Background: Central Linn School District, educational assistant, head secretary, district office accounts payable/payroll/benefits; Laurel Elementary School (Junction City), office secretary; previous city councilor for Brownsville; Central school board member.
Education: Graduate of Central Linn High School; Linn-Benton Community College.
Salvador Diaz
Occupation: Self-employed.
Background: General business experience as a real estate professional, as well as in the publishing industry.
Education: Master's of Business Administration, California Lutheran University; bachelor's in communication studies, Western Oregon University; graduate of Central High School.
Zone 4
Jerry Shinkle
Occupation: Caregiver in adult foster homes.
Background: Mechanic, welder, high school teacher, Central school board member.
Education: Graduate of Yuba City High School; associate degree in agriculture, Yuba College; bachelor's in agriculture, Fresno State College; teaching license in ag education, University of California – Davis.
Zone 5
Steve Milligan
Occupation: Executive director, computer coding for after-school program
Background: Bookkeeper; plant management; business owner; Monmouth city council; previous Monmouth-Independence Network board of directors; Central school board member; Monmouth mayor.
Education: Associate degree in accounting, Chemeketa Community College.
Kristina Mann
Occupation: Private investigator, self-employed.
Background: Business owner; domestic violence assessor; parole and probation officer; police officer; bus driver.
Education: Bachelor's in social science, Western Oregon University; associate degree in criminal justice, Linn-Benton Community College.
Zone 6
Donn Wahl
Occupation: Retired
Background: Hewlett-Packard, engineering, management; Small Business Administration, counselor; Independence Box Company, owner; Central school board member.
Education: Bachelor's in electrical engineering, Massachusetts Institute of Technology; Master's in Business Administration, Oregon State University.
Zone 7
Darcy Kirk
Occupation: Professional photography; accounting at Kirk & Sons Hazelnuts; American Red Cross disaster team.
Background: Accounting and human resources, Kirk & Sons Hazelnuts; photographer; author; worked at Oregon Agriculture in the Classroom; substitute teacher in Lebanon; Central school board member.
Education: Degree in writing/journalism, University of Oregon; bachelor's in elementary education, Oregon State University; working on her master's in writing.
Zone 2
Peggy Clyne won her seat through a write-in campaign in the 2015 election. She has enjoyed serving on the board, something she hadn't been able to do until moving to Independence six years ago.
Clyne has made a 28-year career out of working for schools and education, so she was not able to serve on the school board because she worked for the district. Now that she works in Corvallis and lives in Independence, it offers her a chance to give back to her community, she said.
"One of the most important things is to continue to build the current path that we're already on, which in turn will build trust within and outside the district," Clyne said. "Central is a wonderful district with highly qualified teachers and staff. We always hear such wonderful things about how wonderful the kids are, how engaged and civic-minded."
In Corvallis, Clyne said she has had the opportunity to go through extensive equity training.
"Equity is extremely important to me," she said. "What can we do as the board to make sure every student in our district has an equal opportunity for success. What can we do to continue to close that achievement gap between our emergent bilingual and native speakers."
Clyne said she has six grown children — none of them attended Central schools.
"I view that as a positive thing," she said. "I have no agenda; I have no history; I can make decisions on the now."
Salvador Diaz grew up in Independence and graduated from Central High School. As such, he said he knows where Central students are coming from, particularly the Hispanic ones.
"I know what it's like to be a minority student in a setting like that," he said. "I know how it is to have your interests overlooked unintentionally and sometimes pass by you. I feel like I'm qualified now to lend some guidance from past experiences. Also, I genuinely care about the kids and bring some diversity and diverse perspectives to the board."
Diaz said serving on the school board is something he has always wanted to do, but wanted to first acquire the skill set and experiences that would offer a valuable perspective to the board.
"I offer a wealth of experience now," he said. "I have a good level of education to make educated decisions."
Diaz said, from what he understands, the board is doing a "fantastic job."
"There isn't much to change," he said. "I want to contribute to the continued success they're achieving."
One thing he will contribute is a Latino perspective, Diaz said.
"The board currently doesn't have anyone who represents the Latino community," he said. "I want to be a good role model for those wanting to step up and serve, and inspire the students that they're going to have an opportunity to step up and have their voice heard, and show a genuine interest in their community."
Steve Milligan was appointed to fill the seat for Zone 5 after Kathy Zehner retired from the board in July.
At the time, he said he did not plan on running for election to the spot — Milligan was a Monmouth city councilor and running for mayor at the time. He has since been elected to mayor.
When Superintendent Buzz Brazeau announced his retirement, that changed, Milligan said.
"Once he decided to retire and we looked at hiring a new superintendent, I wanted to continue (on the board) so we could continue with the same school board who hired the superintendent," Milligan said. "So we could continue with the same school board leadership at the same time we had a new superintendent."
Milligan wants to see the momentum continue.
"I see some really positive growth in the school district," he said. "With the transition of a new superintendent, the school board that hired her, keeping that together as much as possible would be to the benefit of the school district."
Milligan said he has seen some challenges in the district, while on the board, but also for many years sitting on the budget committee.
"There's always felt like there's some conflict between teachers and administration," he said. "Now I see a chance for that to change and some healing coming on. I don't want to see a misstep in that. I want us to get healthier."
Milligan said the district has started collecting data and turning that into outcomes for kids.
Kristina Mann is a parent in the Central School District and is eager to be involved.
"I have the support of lots of friends and family, who are also parents in the district," Mann said. "I have a history in public service. To me, this is the next step, to be involved in the board and polices."
She said that with her perspective, being someone who's in the schools, going to conferences or sporting events or theater events, she is representative of a lot of people in the community.
Mann said her first goal is to get an understanding of how it works and to be involved in policy.
"I really would like to be an advocate for better communication between the board and the community, the schools and the parents," she said.
Mann said, as a parent of students in the district, she often feels like she is missing out on important information.
"I think about our Latino population," she said. "If I don't feel like I'm getting the information, it concerns me about that other half of our population. Are they getting the information they need?"
Mann said she is excited to work with Jennifer Kubista, the new superintendent who will begin work leading the district on July 1.
"I think that's going to be a good, clean start for the board," she said.
Mann has the endorsement of the Central Education Association.