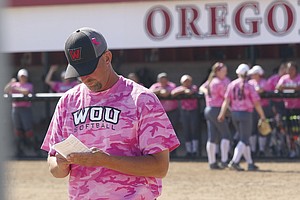 MONMOUTH — The last time Western Oregon's softball team played in Monmouth was April 20 — 2016.
As the Wolves defeated Central Washington in a doubleheader on Sunday, WOU thanked its "home" crowd — in Corvallis.
The game, held roughly 22 miles away from Monmouth, was the closest thing to a home game the Wolves have sniffed all season long.
In an average year, softball coach Lonny Sargent said the Wolves play between 12 and 14 home games.

That number was zero this season, as the softball squad traveled to Nevada, Hawaii, Washington, California, Idaho, Montana, British Colombia, Portland and Hillsboro with travel miles totaling more than 14,500 according to Sargent.
The result has been a season that has presented a number of challenges on and off the field.
COSTLY CANCELLATIONS
It's a situation that's all too familiar for Sargent and baseball coach Kellen Walker, whose team hasn't played at home since May 7, 2016, during the spring.
Sargent is on the phone. He's not talking to family or friends. He's scrambling to get a postponed game moved to a new date and location.
"I get on the phone (with the opposing coach) and we find the best possible date we can play at," Sargent said. "We balance what's best for us and what's best for them. The big thing, especially this time of year, is a lot of places are booked, so finding a place to play can be difficult."
Moving a home game affects the Wolves beyond fans losing a chance to see them play.
Each move requires finding a date that works for both teams and a new location — that can lead to extra travel costs and fees to rent a facility, and it's up to the coaches to work it out.
"In some cases, other programs have helped us," Sargent said. "Northwest Nazarene helped us with bus costs, even though we had to take vans because there were no buses available. The extra trip up to Western (Washington), they helped us with hotel costs. Sometimes, like going up to Portland to Concordia, we had to cover all of the costs, and against Simon Fraser, we had to cover transportation and renting the facility."
Those costs can add up quickly.
Final budget totals won't be calculated until after the season is over, but Sargent said travel expenses could be signficantly more than during a normal season. Walker said he did not have estimates ready.
How those funds will be handled remains to be seen.
"It'll be interesting to see how it pans out, I'm not sure," Sargent said.
The athletics department declined an interview request to discuss budgets.
TAKING A TOLL
Money isn't the only cost of losing home games. Additional travel means more time on the road — and less time in the classroom for the student-athletes.
"It affects time spent in the classroom," Sargent said. "It affects relationships with professors. It affects their evenings because they have to spend time trying to get back on track with school. I think it's kind of taking a toll this year on our relationship with our faculty. Our faculty have been, for the most part, really wonderful in handling this and helping our student-athletes handle this, but this is a crazy way to go about it."
Student-athletes already must deal with missed classes. Adding in unexpected absences just makes balancing school work and practice/game schedules even more difficult.
There is extra time making up missed assignments or tests and having to work with professors so that missed classes have the least amount of impact possible on student-athletes.
Shuffling the schedule around has also taken a toll on the field of play.
"We've had six games during a week sometimes," Walker said. "That put some strain on us physically. It puts extra stress on the pitching staff. We have to move guys around a little bit, but we are doing everything we can to be successful."
Extra travel, late nights getting caught up on school work, and injuries have made an already grueling schedule even more difficult.
"They're tired," Sargent said. "They're exhausted from traveling and having to makeup school work. It's draining on them. That's hard to watch as a coach because there's nothing you can do to help that. You're helpless in that situation. They're working so hard at everything but they don't get that return on their work with a chance to compete at home."
A SIMPLE SOLUTION?
Given current facility conditions, the baseball and softball teams are completely at the mercy of weather conditions, a fact coaches aren't particularly pleased with.
"I hope (the weather) isn't something we just have to deal with because it's not the best student-athlete experience," Sargent said.
There is a possible solution — one that coaches say would rid the programs of many of the issues its facing: Turf.
"I think that's the ultimate answer," Walker said. "Being in the northwest, you get tough weather. This allows you to get games."
Installing turf — and lights — would allow Western Oregon to handle Oregon's weather.
"I believe it's almost inevitable that most of the programs will go to turf or partial turf to make sure students aren't missing classes because they have to, all of a sudden, reschedule a game," Sargent said. "If we have lights for our fields, we could practice at night so students wouldn't have to miss any classes and our players could stay for a whole practice. We could play games later in the day so they don't have to miss classes while we're at home."
Walker also said drainage issues would need to be addressed as well.
While coaches agree turf seems to be the future, there is one hurdle to clear: Money.
Coaches said there have been discussions in the past about installing turf. Whether those discussions lead to action is up in the air.
The baseball team has one final chance to play at home — with scheduled games against Northwest Nazarene on Thursday and Friday.
If those games happen as planned, at long last, it will be home sweet home for the Wolves.
"Our players have done a great job sticking with it, dealing with all the time on the road," Walker said. "They deserve a chance to play in front of people on campus, whether that be friends or family."