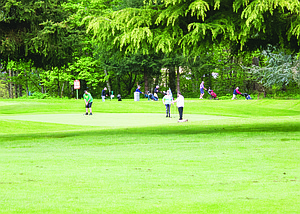 DALLAS — The Dallas City Golf Club is two steps closer to being part of the city of Dallas' urban growth boundary.
Monday, the Dallas City Council had its first review of an ordinance to include the property in the UGB, a move that will allow the club to renovate buildings and expand services offered at the nine-hole executive course.
On April 26, the Polk County Board of Commissioners approved the club owner's application to move from the county to the Dallas UGB.
A second reading of the ordinance and vote is slated to take place at the council's May 15 meeting.
The council addressed the popularity of another form of golf Monday, making it necessary for groups holding tournaments to reserve the disc golf course in Dallas City Park.
City officials said requests have increased. Tournaments require more staff time and keep recreational users from playing during the tournament.
Reserving the course would cost $100 for four hours, plus $15 per hour for additional time.
Councilor Jackie Lawson suggested the city require tournament reservations for another sport growing in popularity: Pickleball.
Pickleball combines elements of tennis, badminton and table tennis.
The city budgeted $30,000 from parks system development charges to build pickleball courts in Roger Jordan Community Park near the Dallas Aquatic Center. HEAL Cities also awarded a $9,500 grant to help pay for the courts.
"Apparently, it's way beyond the scope of what I ever knew, and I keep hearing more about it," Lawson said. "It might behoove us to even consider going ahead and moving on that now."
City Manager Ron Foggin said the disc golf ordinance doesn't include pickleball, but the city could consider that if requests came in for tournaments.
In other business, the city:
• Selected a new auditor, Pauly Rogers & Co., following and request for proposal process. Pauly Rogers was the low bidder.
• Will have a workshop in June discussing the role of the recreation coordinator position that the Dallas Budget Committee decided to restore to the budget.