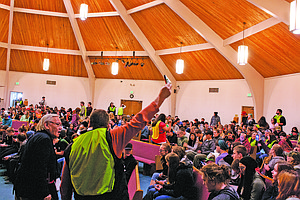 DALLAS — Students streamed from the doors of Dallas High School in orderly fashion as school staff members dressed in bright-colored vests guided them down Miller Avenue to Valley Life Center.
It was quite the sight on a Thursday afternoon: 900 or so students walking the mile down the street to the church in a full evacuation drill.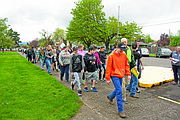 This wasn't a fire drill with a long walk, but practice for an actual emergency, with parents converging on the site to pick up their children.
District Superintendent Michelle Johnstone said very few schools in the area have conducted a drill on the same scale as Thursday's.
"We want to prepare and hope we never have to use it," said DHS Principal Steve Spencer. "We wanted to test the system."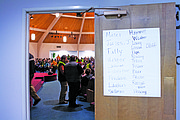 That system includes the process of making sure all students get from one place to the other and are accounted for once they are there.
Also, the school tested its process of contacting parents to pick up their kids.
While the school sent parents messages throughout the year that the drill would be happening, parents were not informed of when.
Students weren't aware, either, until lunch time Thursday when the word got out.
Spencer said the idea was to make it as close to an emergency scenario as possible.
The drill began with a 5-minute lock out, followed by a 5-minute lock down, and then students were instructed to leave the building and head to the church. Once there, they filed into the sanctuary or other rooms in the church with their teachers to wait for their parents to arrive.
Parents were told where to go and to bring photo ID with them. Without that, their child would not be released.
The process of checking in parents and retrieving students through staff members designated as "runners" appeared to work smoothly, but getting parents to the right place to check in wasn't as organized.
Shortly after the drill began, school officials were having to direct parents to the other side of the building to check in. Cars started to back up on Miller, so officials had to start directing traffic.
Dallas police, the Polk County Sheriff's Office, the Dallas Fire Department and representatives from other school districts were there to observe and provide feedback.
"They are really doing some good stuff," said Bob Maca, Salem-Keizer School District emergency management specialist. "It's new for them. It is a learning experience."
Finding out about issues during a drill, when the strongest reaction was minor annoyance, will make the process better when an actual emergency does happen, Johnstone said.
The district ran a similar drill at Lyle Elementary School and used lessons from that to design Thursday's drill.
She said a lot of the feedback from families indicated they thought the drill was useful.
"They said, 'I'm glad we have a process, and as a parent, I know what that looks like,'" she said.
Johnstone said district officials will talk about what worked and what needs to be changed, and analyze feedback from observers to improve the process for when the real thing happens.
Thursday, the feedback was positive.
"I think they are doing a good job," said Jodi Drescher, Silverton High School's assistant principal, who is also in charge of safety and security. "They are going to find things that they need to fix, but I think it's a good thing that they are doing."