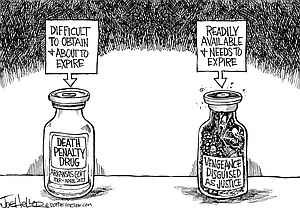 Let's not go back to dark ages
In response to Harold Pippin's letter about Monmouth being an inclusive city. Here's another one wishing for the good old days. So, he wants an administration that will run things as the founders intended. So, let's bring back slavery. No voting or rights for women. Decisions made by white merchants and property owners only. What about all men (people) created equal. Life, liberty pursuit of happiness. Sometimes I am amazed humans have made it this far. Why can't we share our freedoms?
Louis Stuckey
Monmouth
Help fill the bus with food for needy
For several years the Central School District Transportation Department has conducted a food drive to provide assistance for the community. This event is called "Fill the Bus," and its purpose is to provide daily living necessities for local families in time of need.
Not only will boxes be placed in all of Central schools, but they will be at the Central School District office and the Transportation Department office, 520 Hoffman Road, Independence. We want to allow students and employees the opportunity of participating in this amazing drive. We would also like to encourage all residents of Monmouth and Independence to help us with this just cause.
The "Fill the Bus" drive will be taking place at two different locations. The first day will be May 6 in the Bi-Mart parking lot in Monmouth and the second on May 20 in the Roth's parking lot in Independence from 9a.m. to 3 p.m.
Our goal is to completely fill the bus with personal and non-perishable food items. Working with children and parents on a daily basis, the Transportation Department understands the need to assist our community when times get tough. All proceeds will go to Ella Curan Food Bank, and we would love for you to join us in supporting this worthy organization.
Teri Barry
Independence
Immigrants are vital to community
In response to Mr. Pippin's letter which appeared in the April 26 Itemizer-Observer: Myself and many other Monmouth residents worked with our Hispanic friends and neighbors to encourage our Monmouth City Council to pass the Inclusivity Resolution, which supports the Oregon State Statute 181.850. Under this law, state and local police are not allowed to enforce federal immigration law if a person is not involved in criminal activity. It does not provide a safe haven for anyone who is suspected of or who has committed a crime.
This allows local law enforcement's time and money to be spent on activities which our tax dollars were meant for (protecting our communities from actual threats and keeping the peace, not interrupting the families and work of peaceful, hardworking individuals because of their skin color).
Mr. Pippin refers to undocumented people as "criminals." I know many of these so-called criminals. People who left Mexico many years ago to protect their families from the threat of gangs and violence in their communities. People who came here to fill the demand for difficult manual labor jobs that U.S. citizens don't want to do. People who risked their lives to find a better life for their children. Children who were brought here at a very young age and know no other life. Mr. Pippin, what would you risk for your family?
These so-called criminals are paying rent, supporting local businesses, and paying taxes to support your Social Security, and will never reap the benefits. I support fair immigration reform and a path to citizenship. I reject the oversimplification of viewing undocumented human beings, real people I know, as criminals.
Patricia Dixon
Monmouth
Teachers endorse Mann for board
The CEA interviewed candidates running for the Central 13J School Board. Both of the candidates in contested Zone 2 are excellent.
In contested Zone 5, the CEA officially endorses Kristina Mann. Mann is the mother of two Central students, and has worked as a bus driver for the district, in the criminal justice system, and as a small business owner. The CEA feels that her experience, her willingness to serve the students, and her commitment to making the board responsive to the public makes her the stronger candidate. Please vote for Kristina Mann for 13J School Board, Zone 5.
Laura Waight
Monmouth
President, Central Education Association
Salt Creek says yes to fire bond
Our Salt Creek Neighborhood Association executive committee and "neighborhood watch" road captains voted unanimously to support the Southwest Polk Fire District bond measure 27-125.
This would provide funds to rebuild the Rickreall station and construct a new sub-station at Salt Creek. It provides modern communication equipment and replaces outdated SCBA, not approved for rescue entry into a burning house after 2018.
It provides OSHA approved protective gear for our volunteer firefighters who risk their lives to fight our fires.
This bond will help protect lives of your family and community in fire and medical emergencies.
We urge a "yes" vote.
Bruce Sigloh
Salt Creek Neighborhood Association, president
Laws, meanings change over time
Letter to editor in response to Mr. Harold E. Pippin's letter of April 26.
Mr. Pippin:
Our laws are not commandments. They are forever and always interpreted one way, then another, then amended, altered, or repealed. Some are more unchangeable than others. We use language to describe our reality. As the meaning and nuance of words change, then so does our description of reality.
Most people leave their own land because of cruelty. They are suffering too much; there's no relief; and they have to get out. If they wait in line, they die.
As humans, we have the capacity to cause suffering in one another. Or we don't have to.
Perhaps for as long as we have beating hearts of our own, we can choose to let others live with a little less suffering. Eh?
J. F. McDonald
Monmouth
Elect Milligan for school board
I have had the opportunity to watch the positive changes over the last several years, as a budget committee member and now as school board member of Central 13J. These changes have led to improved graduation rates and improved literacy.
I have tremendous respect for the teachers, staff, and administration of Central 13J. We are becoming a model district for other districts in the state and nation.
As your school board member, I want to keep this momentum going.
Vote Steve Milligan for Central 13J Zone 5.
Steve Milligan
Monmouth
Dave Hunt for Dallas schools
If you are looking for someone who knows how important our schools are, Dave Hunt is the person you should vote for to serve on our Dallas School Board. All five of Hunt's children have enjoyed the great education programs our schools provide. Dave has helped support them in almost every activity they have been involved in, from dance team, soccer, senior party, you name it. Dave is a caring person with a solid work ethic who will work with our educators, school administrators and community to make sure we are leading by example.
Eriks Gabliks
Dallas
Property tax increases spiral
To my mind this explains part of why this nation is in such financial trouble. Property taxes keep on raising to pay off increasing bonds that keep getting voted in.
According to an article I read, about 52 percent of families rent now instead of owning their own home. When over half of the voters think that they are no longer paying property taxes, they will vote for anything that they think someone else will have to pay for. And then they cry about their landlords raising rent, "Freeze rents," they say.
What they are not understanding is that every time they vote for another "feel good" bond measure, they themselves are raising their own rent. When the landlords' costs of owning that property increase, they must raise the rent to cover those expenses.
Eventually I see many of the private landlords trying to sell their properties to get out of the hassle. Then either the properties get torn down for construction of apartments, or taken over by corporations that manage properties. Another possibility would be government housing.
I'm not sure about this, but I would assume that government housing would not pay property taxes. If that is so, then you have even less local tax income, so up go the tax rates again. It sounds like a vicious spiral to me.
I could see an Orwellian future where everyone would have to live in government controlled apartments and have their income taxes spiraling out of sight to support those apartments because there was no more private property to tax. There really is no such thing as a free lunch.
Gary Richards
Monmouth
Vote yes on county facilities bond
Please support the Polk County Facilities Bond. The $10 million bond would take affect after the current road bond expires, and the costs are estimated to be less than the road bond.
The needed funds would go to many projects, including the Polk County Fairgrounds.
As the current fair board chair, I can speak firsthand to the needs at the fairgrounds. The bond will allow for repair on the main building and the arts and crafts building; roof replacement, restroom upgrades along with many other projects will improve safety and access.
I urge you; vote yes for our county facilities.

Anna Scharf
Perrydale
Polk County Fair Board Chair