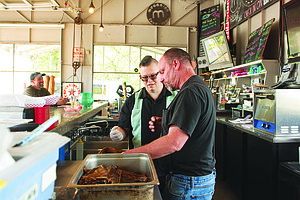 INDEPENDENCE — Ray Walter's introduction to the culinary world was through his mom with cake decorating — when he was 8 years old.
His life has always led him back to cooking. His latest food adventure, IndePit at Mecanico, is furthering that journey.
Time for Barbecue
What: IndePit at Mecanico
Where: 87 S. Main St., Independence
Hours: Wednesday through Sunday, noon to 8 p.m.
Contact: 971-267-6006; https://www.faceb...
Walter said he's tried a lot of other jobs, but since deciding to focus on food, he's happier and calmer.
"It's what I was good at. It's always just been natural to me. I've been doing it my whole life," he said. "I've done other things, trying to find a more manly career, but I've always been at home and happy in the white coat."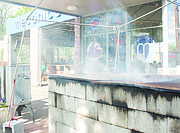 Walter brought his unique — for the Northwest, anyway — brand of barbecuing to Mecanico in February 2016, making a partnership with former owner Matthew Lind. Walter's barbecuing start in Independence was at the old 2EZ Café in 2014.
In March, Walter took over the pub side of the business at Mecanico.
"I've been holding down the fort for a year, running barbecue," Walter said. "Now, the whole thing is mine."
A culinary school graduate who said he could take a more traditional chef position that would pay nicely, Walter chose to stick with building a barbecue following in Independence.
"I can go make $65,000 as an executive chef, but the community involvement I have through barbecue offers all of that stuff that you can't get," he said.
Walter's barbecue is cooked in an actual pit — not a barrel smoker — that he built out of cinder blocks and has expanded since setting up at Mecanico.
He started with a four-foot pit and now has a 16-foot pit, and a small staff to help him tend to it.
Friday, Dean Hahn, Walter's "pit apprentice" executed the day's ribs to perfection.
While Walter has homemade sauce on hand for customers, he cooks his chicken, ribs, brisket and pulled pork with rubs. He makes those in-house as well, and they are gluten-free.
"Oh yeah. There's no better advertisement than that," said a customer watching Walter and Hahn unwrap and cut the ribs.
Hahn was happy with the result.
"I got the ribs right," he said. "I like to take pride in the food."
Hahn was hired after stopping in at Mecanico after a long day working in a Salem restaurant, and is glad to have made the change to Mecanico's open-air setup.
Mecanico, a converted gas station that still has the bay doors, features a bar with seven beers on tap, a daily menu of what comes out of the pit, and sides like baked beans, coleslaw, and macaroni and cheese.
For dessert, Walter rotates Dutch oven peach cobbler and chocolate stout cake.
People can sit in the bar or in what Walter calls "the backyard" that has tables and fire pits.
"People get to hang around the fire pits, have a few beers, smoke a cigar. You can have your dog here. You can't get that in a restaurant," he said. "That's what I love about this. It's like hanging out, having barbecue in the backyard."