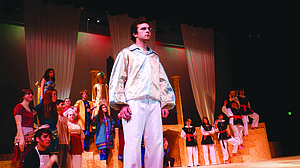 INDEPENDENCE — Salaam and good evening, worthy friend.
Take a journey to the magical land of Agrabah, where a young street rat and princess meet under less-than-honest circumstances, have adventures with a flying carpet, meet a powerful genie, and find that love conquers all — even social status.
Arabian Nights
What: Central High School Performing Arts presents, "Aladdin Jr."
Where: Central High School auditorium, 1530 Monmouth St., Independence.
When: Wednesday through Saturday, 7 p.m. Saturday includes a chance to have lunch with the cast before a 2 p.m. matinee. The play also runs Wednesday, May 17, through May 20 at 7 p.m. with a 2 p.m. matinee. Audience members are invited to sing along at the May 20 matinee performance.
Admission: General, $8; students, $5.
For more information: centralperformingarts.org.
Central High School will perform Disney's classic, "Aladdin Jr.," opening Wednesday (today) at 7 p.m. The musical will run for two weeks, Wednesday through Saturday and May 17 through 20.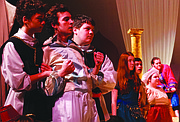 Lizbeth Santillan, who plays Jasmine, is excited to perform "Aladdin Jr." It comes with mixed emotions, as this will be her last show on Central's stage.
"It didn't really kick in until a couple days ago when we put on the little preview for the little kids," she said. "It's an awesome play to end with because it's full of magic."
She also is eager to perform the role of Jasmine — a "sweet girl who just wants her freedom," Santillan said. Previous roles she has played have been on the nasty and mean side, she said.
One of the challenges for the actors in Aladdin is singing and dancing.
"It's really hard to stay on the right note, on the right key, and not run out of breath when you're doing big moves," Santillan said. "But in the end, it's worth it. Everybody loves it. They eat it up, and it's amazing to see them praising our hard work. It gets tough, but it's beautiful and we all love it."
Actors Joel Robison and Dylan Lewis, Aladdin and Genie, respectively, have even more work to do when it comes to song-and-dance numbers.
"I'm on stage the majority of the time, and the first opening numbers run into each other, so I'm kind of exhausted and dying of sweat after," Robison said.
The role of Aladdin is more than physically demanding for Robison.
"It's been a crazy ride for me as far as it's more emotionally exhausting than I had anticipated," he said. "I had a lot of empathy for Aladdin, and I have more in common than I thought when I was cast as the role."
Robison, a junior, said that even though Aladdin is a cartoon, he has a story to tell that is very much applicable to real life.
"We've all worked super hard to make sure it's as true as we can to what we believe the story's trying to tell," he said. "That's the whole purpose of acting. We're telling the story for a reason, for people to hear it. Without people to hear it, our art form is going to be obsolete. And we have a good story to tell."
Lewis said that story is about being true to oneself.
"Beggar becomes prince, tries to impress everyone, but realizes that if he was just himself from the beginning, he could have gotten the girl in the end," he said.
Lewis said the story is relevant to modern society.
"The technology's coming in and taking over everyone's lives," Lewis said. "Just being whoever they are online or on the internet. I think it's about time we put those down and think about ourselves and each other."
Lewis plays the infamous Genie, first immortalized by Robin Williams. Having such big shoes to fill has been great for Lewis.
"I kind of love having something to live up to, because it gives me something to work toward," he said.
It drives him to continue making his character "fantastically extravagant and flamboyant," Lewis said.
"I'm supposed to be this blue guy who comes out of a lamp," he said. "How do you build this giant character that's out of something maybe that's not considered to be that big?"
Taking notes from Williams, Lewis said he throws in accents and characters whenever he can — and he improvises jokes, too.
"I'm doing Yoda, Elmo, Capt. Jack Sparrow — anything I can fit in there whenever I can," Lewis said. "Say something as a character and make everyone laugh a little. My goal is to make the ones up top in the spotlights laugh a little bit. They're not supposed to, so I know if I make them laugh, I'm doing my job."
Lewis is no stranger to larger-than-life roles, but "Aladdin Jr." has presented a challenge in how long he has to keep it up.
"I have nothing to do for the first 15 minutes, then the whole rest of the show I'm running around constantly," he said. "It's hard work, but it pays off in the end."
Santillan said seeing the show is a must.
"It's Disney, and it's always amazing to see magic come into real life," she said. "And it's really nice to see the meaning behind it. It kind of shows it doesn't matter what side you come from, whether you're a princess or a street rat, it doesn't matter because we all feel the exact same way, whether we're higher up or lower down. You can stand up to bullies. You can do what you want if you believe in it. It's just a good message."