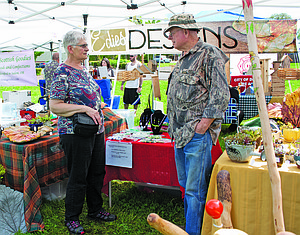 Cherry City Roller Derby fundraiser
Mecanico, 87 S. Main St., Independence, will host Wolf Tree Brewery Saturday from 1 to 5 p.m. Beer and barbecue will be available. A portion of the proceeds will go to the Cherry City Roller Derby program. Skaters will be in attendance.
CEF preps for spring banquet
The Child Evangelism Fellowship of Polk County will hold its spring banquet May 20 at 6 p.m. at Evangelical Bible Church, 1175 SE Howe St., Dallas.
A celebration of CEF's 80th anniversary and updates on what the CEF is doing around the world will be given. The director of CEF in India will also present.
RSVP to 503-364-3965 by Friday.
Master Gardeners plant sale
The Polk County Master Gardeners plant sale returns Friday and Saturday from 9 a.m. to 4 p.m. at the Polk County Fairgrounds, 820 S. Pacific Highway W., Rickreall.
More than 15,000 plants will be available. Items for sale will include herbs and native plants, vegetables, perennials and annuals, hanging baskets and more.
For more information: 503-623-8395.
France School of Dance to perform
The Polk County France School of Dance will perform Tuesday at 6 p.m. at LaCreole Middle School, 701 SE LaCreole Drive, Dallas.
Admission is $3 or three cans of food per person.
All proceeds will benefit the Dallas Food Bank.
Students ranging in age from 4 to teenagers will perform tap, ballet, jazz and hip hop.
New classes begin June 6.
For more information: Linda France Martin, 503-390-3481.
Seniors celebrate Cinco de Mayo
Monmouth Senior Center, 180 Warren St. S., Monmouth, will celebrate Cinco de Mayo on Friday with Latin music and Mexican food.
The Friends board will provide a taco salad bar and those attending will bring other side dishes.
Music will be provided by the high school jazz band.
For more information: 503-838-5678.
Senior center offers history workshop
Gary Huxford, retired from Western Oregon University, will teach a 10-week workshop at Monmouth Senior Center, 180 Warren St. S., Monmouth, Thursdays at 10 a.m.
The class will cover the age of European supremacy (1870-1945). Old maps will be used to help show the area.
For more information: 503-838-5678.
Coffee and conversation
Coffee and Conversation returns Monday at 10:15 a.m. at the Monmouth Senior Center, 180 Warren St. S., Monmouth.
Veterans and other members are invited to talk and find friendship. Coffee and donates will be available.
Stamp Out Hunger on Saturday
Letter carriers with yellow bags will be out and about on Saturday to take part in Stamp Out Hunger.
Hosted by the National Association of Letter Carriers, the one-day food drive is the largest in the country.
People can participate by putting out bags of food by their mailboxes, which will then be collected by their letter carrier.
Most wanted food items include canned meat and fish, peanut butter, shelf-stable milk, whole-grain cereal, and dried or canned fruit.
Rusty or unlabeled cans, glass containers, perishable items, homemade items, alcoholic beverages, mixes or soda, and open or used items will not be accepted.
Additional items can be dropped off at any post office or the Marion-Polk Food Share by May 18.
The drive raised more than 73,000 pounds of food in Marion and Polk counties in 2016.
For more information: www.nalc.org/community-service/food-drive.
Open house for eclipse vendors
The Dallas Eclipse Steering Committee will host an open house for anyone interested in being a vendor at the Celebration on the Square event (Aug. 18-21) on May 17.
Two sessions are available: 3 to 4 p.m. and 5:30 to 6:30 p.m.
Those who register to be a vendor at the open house will receive $50 off the vendor application fee.
For more information: Emma Guida, emmagdda@gmail.com.
Calmlee's Bookstore welcomes Cookie the Clown
Calmlee's Bookstore, 147 SW Court St., welcomes Cookie the Clown Saturday from 11 a.m. to noon.
Cookie will read the children's book, "Will You Be My Sunshine?" and will perform illusions and face painting.
There is no cost to attend.
Sons of Norway to host celebration
WEST SALEM — The Thor Lodge of the Sons of Norway will celebrate Norwegian Independence Day Saturday at 5 p.m. at the West Salem Masonic Lodge, 1625 Brush College Road NW, Salem.
The public is invited to attend.
Lodge members will provide traditional Norwegian foods, including meatballs, lefse and cookies.
Music and folk dancing instructions will follow.
Norwegian Independence Day is celebrated on May 17 and celebrates the signing of Norway's constitution in 1814.
There is no cost to attend. For more information: 503-302-7973.