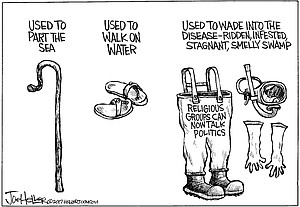 Group seeks to better understand
Last November, I wrote you in response to concerns raised by the 2016 campaign and election.
Partial text: "We are starting a movement, with the goal of having a diverse group of people, willing to try to do something about one or more of the issues. I included my email address."
In response, in mid-January, 17 people gathered in Dallas for the first Polk County Principled Action Committee (PCPAC) meeting. We agreed on a statement of purpose and a set of guiding principles.
Our initial discussions dealt with the split society we live in.
One possible causal factor being the inability of so many members of our society to communicate, talk and listen to one another.
To develop a better understanding of the barriers, we began an effort to educate ourselves about issues at the local, state and federal level, and share what we learned in an open dialogue with the hope of bridging the communication gap.
So far we have met five times.
We think we are making progress and discovered we are not alone in this endeavor.
There are other like-minded citizens at work.
We hope to link up with them to build a larger base.
We want to let you know that we are open to anyone willing to join us in this effort: the task of bridging the divide we believe is keeping our society from creating a better tomorrow.
The general feeling of the group is this: As a result of the work we have done so far, we already are much better informed than we were last November. There is a lot to learn.
Our next meeting is Saturday at 2 p.m., at Western Oregon University. If you are interested in this project contact me at murf92279@gmail.com.
Bob Murphy
Dallas
Council puts funding at risk
This is in regards to Mr. Pippins letter to the editor on April 26.
Mr. Pippin brought up a good point but asked the wrong question which is this: Why did the Monmouth City Council meet and approve an inclusivity resolution when ORS 181.580 was already in existence.
I believe that the answer to this question would be to make Monmouth an Sanctuary City where "illegal" immigrants can hide from and be protected by the law.
So let's take a step back for a moment.
All individuals who are here illegally are guilty of breaking the law regardless if they are outstanding citizens and obey other aspects of the law.
By coming to this country illegally you are bringing in individuals who are criminals, individuals who are sick with disease such as TB and leprosy, you bring overcrowding to schools and burden our state with paying for welfare and other services.
These individuals may not have a Social Security Number or another taxpayer ID number and may not pay taxes or Social Security.
By declaring Monmouth as a sanctuary city you are risking federal funding that your local fire department, police department and schools ask for to provide their community with books, equipment or apparatus that is needed.
As citizens of Monmouth, are you willing to put those federal funds at risk for individuals who are breaking the law by being here illegally?
David Chrisensen
Independence
CHS theater staff run great program
I've had the privilege of having three high-schoolers participate in Central High School's Performing Arts program.
It has been such a memorable experience for each of them.
I just want to publicly thank the staff and administration for supporting such a wonderful program at Central High School.
Thank you Jeff Witt for the countless hours on and off the job.
Thank you Wendy Boyack and Linda Kunze for sharing your talents, passion and countless hours working on all the little details.
Thank you to the volunteers that build sets, sew, design, paint, and are behind the scenes.

Central's Performing Arts is blessed to have you all.
I am looking forward to seeing the 2016-17 school year's final production: "Aladdin Jr." May 10 through 13 and May 17 through 20.
The 20th will be bittersweet, watching our seniors take their final bows (my son among them).
For community members that haven't taken the time to see one of Central's shows, please consider taking the time to support these students and this program.
Michelle Lewis
Independence
Tribal CASA needs children advocates
I work at the Confederated Tribes of Grand Ronde as the Tribal Court Programs Coordinator.
We provide programs that assist families going through the Tribe's child welfare process.
One of the programs is the Court Appointed Special Advocate (CASA) Program.
CASAs are assigned one to two abused or neglected Tribal youth to work as an advocate for them in court and foster a positive relationship with the tribe.
CASAs have a national record of helping kids leave the dependency system earlier and assist in placing them with a permanent home.
You do not need to be a tribal member to give back in this capacity, but you must be committed to learning more about different ways you can advocate for a tribal child's best interest.
We have many kids who could use someone like you on their side.
Please contact me (annie.schmidt@grandronde.org) if you have any questions or would like to receive further information.
Annie Schmidt
Grand Ronde
Indifference or ignorance?
Trump, his henchmen, Republicans and industrial leaders are gleefully gutting those environmental regulations that would have slowed the destruction of our planet. The result of this slashing will be to our detriment.
Only people who slept through fourth-grade science do not accept that our planet is imperiled by climate change.
The strange question here is, do these people who happily destroy our future not have any children, grandchildren or heirs of any kind? If they do they must really, really not care what type of planet these heirs must live on.
It is clear that the people noted at the beginning of this note have sold their upcoming generation's future for money now.
What kind of person would facilitate the probable destruction of the planet and his/her family's future for more money? Does greed have that solid a grip on their miserable soul?
Of course, the same questions apply to these people's supporters. They blindly accept the pabulum they are spooned and parrot the same drivel.
Yet their heirs will suffer even more than those of the rich because they will be far less able to mitigate the destruction of their world.
Do they not care or are they just massively ignorant?
Fred Brown
Dallas
Dallas library builds community
I had the good fortune to attend a program at the Dallas Public Library last week under the auspices of Oregon Humanities.
The subject was "The Space Between Us," a conversation on immigrants and refugees in Oregon, led by Manuel Padilla, a graduate of Dallas Public Schools.
I wish all of Dallas could/would attend this program.
Manuel skillfully used the experiences of the group (about 40 people) to help us all understand the plight of immigrants and refugees, and to see that we have more in common than we have things which divide us. It was a thought-provoking evening, spent with friends and strangers.
I hope it might be the beginning of a broader community conversation on issues which seem to have become more divisive since the recent elections.
Thank you to the Dallas library for bringing this interesting and timely program to our community.
Dale Derouin
Dallas
SW Polk bond will help volunteers
I am a resident in SW Polk Rural Fire District and am in favor of the proposed fire bond.
Our volunteers each dedicate hundreds of hours per year in service to us, sacrificing their time, energy, and talents to keep us safe.
The bond will provide our volunteer firefighters with the equipment, apparatus, and facilities they need to keep them safe and serve us most efficiently.
The monthly cost of the bond will be less than many people spend on coffee.
Let us keep our firefighters safe and help them improve how they serve us by voting yes on 27-125.
Jake Rosenbalm
Rickreall
Vote Hunt for Dallas school board
I am voting for Dave Hunt for the Dallas school board.
Dave has a strong commitment of service to the community, having recently retired as a career firefighter.
Dave understands the issues faced by the school board and will work to resolve these issues in a caring, thoughtful manner.
Dave has always been involved in school activities, from coaching his children's teams, chaperoning Senior Night, to raising funds for school activities.
Dave will bring compassion and caring to this position, and work with school administrators, teachers, students and the community to ensure students receive the best education possible.

Kelly Gabliks
Dallas