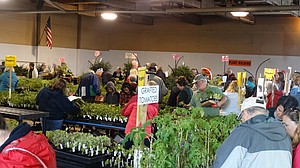 Sheriff's office to provide protection training
The Polk County Sheriff's Office will host a third personal protection training class from 6 to 8:30 p.m. on Friday.
The class is free to women and girls to learn self-defense and awareness techniques.
Participants will learn ways to protect themselves, increase confidence, and learn what to do after an incident has occurred.
Class size is limited. For more information: Segovia.jennifer@co.polk.or.us.
Fill the Bus Food Drive continues
The Fill the Bus food drive will be from 9 a.m. to 3 p.m. on Saturday at the Roth's Fresh Market in Independence.
In addition, the Central School District Transportation Department has placed boxes in all CSD schools, the school district office, and the transportation department office.
The goal is to completely fill a bus with personal and non-perishable food items. All items collected will go to the Ella Curan Food Bank.
Zandol artist of the month at DPL
Francine Zandol is the featured artist at the Dallas Public Library for the month of May.
Zandol's display is a series of paintings using mixed media, all centered on the theme, "a curious life."
Elks to host charity auction
The Independence Elks Lodge will host a charity auction and dinner on Saturday at the lodge, 289 S. Main St.
Dinner costs $8 and starts at 5 p.m. The auction will follow at 7.
Proceeds go toward the Elks Eye Clinic building fund.
MICC to host Discover MI Town
The Monmouth-Independence Chamber of Commerce will host its third annual Discover MI Town from 3 to 7 p.m. on Saturday.
Tickets cost $10 if purchased by Friday; $15 the day of the event.
Shuttles will take participants to tour businesses throughout Monmouth and Independence. Ticket holders will be entered to win a basket featuring items from participating businesses and organizations. Earn more chances to win by visiting all the businesses and completing a Discover MI Town passport.
Kid and family friendly activities will be available at some stops.
For more information or to register: micc-or.org.
Photography class kicks off May 24
The Monmouth Senior Center will host a photography class with Barbara DiMattio at 1:30 p.m. on May 24 at the Main Street Park Amphitheater.
Bring a camera to participate in this free class.
Museum to feature WWI women
The Polk County Museum will feature American Women in World War I from 1:30 to 2:30 p.m. on Saturday at the museum, 560 S. Pacific Highway W., in Rickreall.
Quilt historian Rachel Greco, from Grandma's Attic in Dallas, will discuss women's roles during this "war to end all wars," with a special show-and-tell of quilts that were made during that era.
The program is free, and will be held in the Stafrin Room. Light refreshments will be served.
Wrecknciled to perform at Pressed
Join Wrecknciled for an afternoon of music and fun from 2 to 3:30 p.m. on Sunday at Pressed Coffee & Wine Bar, 788 Main St., Dallas.
The group is a Christian jazz and rock band playing uplifting and encouraging music of today.
Library to host lock-in for teens
Friday from 5:30 to 7:30 p.m., the Dallas Public Library will host a Locked in the Library event for teenagers.
The event includes open gaming, including computer games, video games and Magic the Gathering, as well as a flashlight scavenger hunt and snacks.
For more information: 503-623-2633.
Smoked meat competition is back
The Dallas Area Visitors Center is recruiting barbecue competitors for the Fourth of July Freedomfest celebrations.
The competition will be sponsored by MAK Grills and will include cash prizes for the best smoked meats. The event is family friendly, amateur and non-sanctioned. Categories will include brisket, pork, ribs or chicken. Set up will be July 3, with judging on the Fourth.
For more information: exploredallasoregon.org/freedomfest.
Declutter Your Life starts Thursday
Monmouth Public Library will host Terri Gregory in the second installment of her "Declutter your Life" series.
The program will address the question: When do I start decluttering the family home? The program is from 6 to 7 p.m. on Thursday at the library, 168 Ecols St. S.
Car wash benefits DAC missions
Dallas Alliance Church will host a car wash from 1 to 4 p.m. on Saturday in its parking lot, 775 E. Ellendale Ave.
The event was rescheduled from May 13 because of the weather.
The wash is by donation and benefits summer missions and service internships in Burkina Fasco.
For more information: 503-931-8715.
Thirsty Thursday at Pfaff-Karren
The Monmouth-Independence Chamber of Commerce's Thirsty Thursday will be 5:30 to 7:30 p.m. at Pfaff-Karren Insurance, 1327 Monmouth St., Independence.
Quench your thirst for business and community connections while promoting your business or organization, learn about the host site, enter to win giveaways and enjoy refreshments.
For more information: micc-or.org.
Make your own flower basket
The Independence Downtown Association will host a "Make your own flower basket" from 11 a.m. to 1 p.m. at the top of Riverview Park on Saturday.
Potting soil, pots of varying sizes and plants will be available. Participants may choose their pot and plants, and create their own flower basket. Prices vary. The fundraiser benefits IDA.
Charity auction helps eye clinic
Independence Elks Lodge, 289 S. Main St., Independence, will hold a charity auction Saturday at 5 p.m. Cost is $8. The evening begins with dinner followed by the auction, which will begin at 7 p.m.
Proceeds go to the Elks eye clinic building fund.
For information: Brittany Gregory, 503-881-3823.
Paper shredding offered Saturday
Faith Lutheran Church, 200 Monmouth-Independence Highway, will offer paper shredding for free Saturday from 2 to 3:30 p.m. Small businesses are welcome.
Faith Lutheran will also host a free seminar on money management Saturday at 9:45 a.m.
Registration required by calling 503-508-7094.