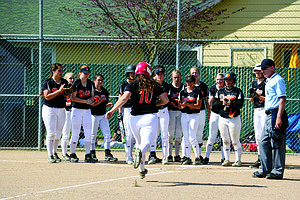 Postal Service to issue eclipse stamp
WASHINGTON, D.C. — Even the U.S. Postal Service has caught Great American Eclipse fever.
On June 20, the USPS will issue a commemorative stamp that uses thermochromic ink to change from an image of a total solar eclipse to one of the moon.
"Using the body heat of your thumb or fingers and rubbing the eclipse image will reveal an underlying image of the moon," a release from the USPS stated.
Astrophysicist Fred Espenak took the eclipse image during a solar eclipse in Jalu, Libya, on March 29, 2006. Espenak also took the moon photo used for the stamp.
The back pane of the stamp sheet shows a map of the eclipse's path of totality across the country.
The Great American Eclipse will be seen over Oregon on Aug. 21 starting around 10 a.m.

Library asking for community feedback
FALLS CITY — The Wagner Community Library is looking for residents of Falls City to provide feedback on the future of the library.
Leaders at the library have created a survey that includes questions about how people use the library and whether they are aware of its programs. It also asks if residents would be willing to pay more property taxes to support keeping it open and how much.
Wagner is operating on the proceeds of the Wagner Trust Fund, which diminishing. The library may face closure if no other funding source is found.
To take the survey, go to /www.surveymonkey.com/r/WagnerLibrary.
The results of the survey will be discussed at the Library Advisory Board in June.
For more information: 503-787-3521, ext. 319.
FC Council to discuss city recorder job
FALLS CITY — The City Council of Falls City will hold a work session on Thursday to discuss the hiring process for a city manager or city recorder.
The meeting will begin at 7:30 p.m. at the Falls City Community Center, 320 N. Main St.
Council members declined to begin the hiring process at its meeting Thursday because they wanted to discuss the job descriptions of the recorder and mayor — who is now filling in as the city manager — before moving forward.
For more information: 503-787-3631.