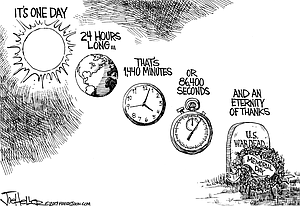 Central junior Bethanie Altamirano finished first in the 400-meter run at the OSAA Track and Field State Championships in Eugene on Saturday, and while she did it, though she may not realize it, she set an example for all of us.
She said she cried because she was scared — and felt like she carried the weight of the world on her shoulders.
We've all felt that way — or will — at one point or another. And when the feeling comes, we need to remember Altamirano. We need to step on the track and run our hearts out. We need to not take it slow and expect we'll catch up, but go full speed ahead and come out on top.
Altamirano was just one of many student-athletes from Polk County who performed at a top level at the state championships.
In total, athletes from Central, Dallas, Falls City and Perrydale high schools placed in 24 events in Eugene. Some were there for the first time. Others were making a return trip, but each one of their stories can teach us all important lessons about what it takes to succeed in life.
Their successes did not come quickly or out of nowhere. Their successes came from weeks, months and years of training and dedication. Their successes came from working hard in the wind and rain during the winter. It came from making sure each practice had a purpose — even if no one was there to watch them. It came from being disciplined and not veering from the course set before them. It came from finding something they love doing and have a willingness to go above and beyond the normal person to improve.
Success did not come quickly nor easily, but each athlete persevered. They never let doubt overcome them, and they proved that true hard work can pay off in big ways — and that short-term sacrifices can lead to long-term gains.
Their ability to perform at state also teaches us a lesson that when the time comes and all the chips are down, don't let the moment overwhelm you. Trust in your preparation. Be confident in your abilities and be proud of what you've accomplished. It's true, sports are fun and entertaining. But sometimes, sports can be so much more.