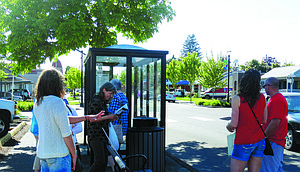 May 31 play to benefit KMUZ
The May 31 performance of "Leading Ladies" at Pentacle Theater, 145 Liberty St. NE, Salem, will benefit KMUZ.
The comedy tells the story of two Shakespearean actors down on their luck who find themselves in Pennsylvania and come up with a plan to inherit the fortune of an ailing older woman.
Tickets cost $25.
Proceeds will go to KMUZ, an all-volunteer radio station that serves the Mid-Willamette Valley.
For more information: 503-364-7200.
Kings Valley band to perform Friday
Kings Valley Charter School elementary and band elective students will perform Friday at 6:30 p.m. at KVCS, 38840 Kings Valley Highway, Philomath.
The senior class will provide dinner starting at 5:30 p.m.
Celebrate with Brazeau Thursday
A retirement celebration for Central School District Superintendent Buzz Brazeau will be held Thursday from 3 to 5 p.m. at Henry Hill Education Service Center, Hawk Hall, 750 S. Fifth St., Independence. There is no cost to attend.
Memorial Day aviator recognition
The 24th annual Memorial Day Aviator Recognition will begin at 11 a.m. on Monday at the Independence State Airport on Airport Road.
The program has honored more than 340 aviators, military and civilian. Each pilot is recognized with a short remembrance of their life's story, and the family is presented with a flag flown over the nation's capital.
This year's master of ceremonies is Rep. Paul Evans. Keynote speaker is Danny Jaffer, formal naval aviator. The program will include a memorial wreath presented in memory of the deceased aviators.
At the close of the program, local pilots provide missing man formation fly-over in honor of those pilots who have taken their last flight.
Additional activities include public viewing of aircraft parked on the ramp at the airport and a no-host barbecue lunch put on by the Boy Scout Troop 38.
Visitors may park at the Marquis Spa parking lot and use a shuttle bus.
The program is sponsored by the Independence State Airport Advisory Security Board.
For more information: Margaret Cleveland: mlvcleveland@gmail.com.
Grand Ronde to host Memorial event
The 15th annual Grand Ronde Memorial Day observance will start Monday at 1 p.m. at the West Valley Veterans Memorial on the Grand Ronde Tribal Campus, 9615 Grand Ronde Road, between highways 18 and 22, west of Spirit Mountain Casino.
Steve Bobb Sr., chairman of the tribe's Veterans Special Event Board and a Marine Corps vet, will be the master of ceremonies. Speakers include Polk County Veterans Service Officer Marie McCandless, Yamhill County Veterans Service Officer Jerry Wilson and Veterans Benefit Specialist Niki Volz.
The West Valley Veterans Memorial features four black columns representing the major branches of the Armed Forces: Army, Navy, Air Force and Marines.
The names of tribal and nontribal residents from the West Valley area communities of Sheridan, Willamina and Grand Ronde who have served in the military are etched into the columns each year. This year, 10 new names will be added to the memorial, bringing the total to 2,335.
For more information: 503-876-3118.
Speaker highlights eclipse book
Elaine Cuyler will give a presentation on the children's book, "The Big Eclipse," at 6:30 p.m. on Thursday.
Cuyler has been visiting schools and libraries all over Oregon teaching about the coming eclipse. There will be free copies of The Big Eclipse Activity Book, and eclipse glasses available at the event.
Copies of the book The Big Eclipse will be available for purchase. The event is free.
For more information: 503-623-2633 or check facebook.com/dallaslibraryoregon.