DALLAS — Polk County Sheriff's deputies arrested a Dallas man following a two-vehicle accident on Friday on East Ellendale Avenue near Fir Villa Road.
Emergency crews responded to a report of the crash at noon on Friday, with deputies assisted on the scene by the Dallas Police Department, the Oregon Department of Transportation and Dallas Fire & EMS.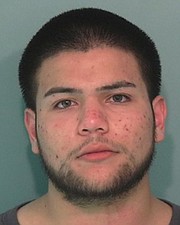 According Polk County Sheriff Mark Garton, a black Dodge pickup had been traveling west in the east bound lane when it struck an eastbound 2002 Chevy Silverado pickup almost head-on. The Chevy rolled multiple times after the collision.
Fire & EMS assessed driver of the Chevy, Vance Ruzicka, 55, of Salem, on scene and didn't take him to the hospital.
The driver of the Dodge, David Larios-Mendoza, 21 was not taken to the hospital, either.
A third vehicle that had been following the Chevy was able to avoid the accident, according to police.
After interviewing witnesses and investigating evidence on the scene, deputies determined Larios-Mendoza caused the crash and had been driving recklessly, Garton said.
Police said Larios-Mendoza was the subject of another reckless driving report from Dallas where Dallas PD responded, but was unable to locate the vehicle. The caller said the vehicle was speeding, not able to maintain its lane and following too closely.

Deputies arrested Larios-Mendoza on five counts of reckless endangering, reckless driving and second-degree criminal mischief.