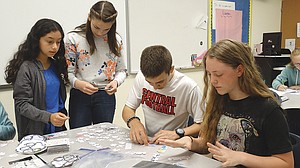 INDEPENDENCE — It's tough being a sixth-grader. Not only are you at a new school, but it's bigger — and with different classes and lockers and lunches.
Fifth-graders at Ash Creek Elementary School crowded into the Talmadge cafeteria on Thursday to learn more about their next adventure: Middle School.
Principal Perry LaBounty answered a few questions and introduced the councilors at Talmadge, but the real stars were the eighth-grade WEB leaders — part of the Where Everyone Belongs Program.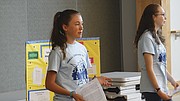 Questions came steadily for the experienced middle-schoolers: Will there be enough time for lunch? Will there be recess? Will we be late for classes? Will we get a locker? Can we chew gum?
Natalie Webb assured them they will have plenty of time to eat and get to class. They can even have some recess, and some teachers will allow gum in class while others won't.
There's so much angst involved in the transition from elementary school to middle school that Talmadge Middle School teacher Kelly Cutsforth brought the WEB Program to the building in 2008, when sixth-graders were moved from Ash Creek Elementary School back to the middle school.
Now, Karina Newbeck runs the program, filled with eighth-grade leaders working to make life a little easier for sixth-graders, while preparing fifth-graders to make the big move.
WEB leaders are handpicked by Newbeck after applying for the program. Each student must have two teacher recommendations before they can be considered.
"They give up eight hours of their summer, and are here the first day of school, when it is just sixth-graders, so really two days of their summer," Newbeck said. "And they're missing class now."
WEB leaders have to make up that missed schoolwork, so they must be well organized and studious.
Ryan Fitts said he finishes as much work as he can in class, and has a plan for when he gets home so he can keep up with his academics while participating in WEB.
But it's worth it to the students to help others.
It wasn't that long ago they were the new kids on the block at Talmadge.
"I remember I was super excited to get my locker, and then I couldn't reach the top shelf," Fitts said.
Crystal Rodriguez said she enjoys helping others feel more comfortable.
"I was really shy and didn't want to be open that much," she said about herself in sixth grade. WEB leaders helped her get more involved and comfortable with the situation.
Sometimes WEB leaders will sit with someone at lunch who has no one else to sit by, Elijah Mierau said.
"On the rare occasion, you have to break up a fight," he said. But they try and keep their language positive. Rather than saying, "Don't do that," they say, "That's cool, but …."
Sixth-graders can be ornery, WEB leaders said, and they have to organize activities for everyone.
"Our goal is to make sure everyone belongs," Webb said. "It's literally what WEB stands for."