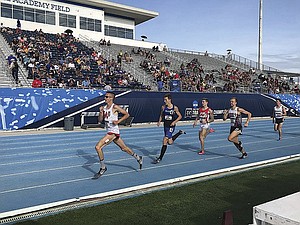 BRADENTON, Fla. — There was no dive to the finish this time, but Western Oregon junior David Ribich showed he has a flair for the dramatic.
Ribich added an individual national title to an impressive resume, taking first in the men's 1,500-meter run at the NCAA Division II Outdoor Track and Field National Championships on Saturday.
Ribich finished in 3 minutes, 49.64 seconds. Kyle Medina of Chico State took second in 3:49.86.
The race started out with a slow pace, going out in a 67 for the first lap, but Ribich was content to stay situated in the lead group.
By the time they started the final 400 the pace had picked up considerably — finishing the final lap in a 55, Ribich said. The junior had been at or near the lead throughout the race and had the field right where he wanted them.
"I knew I had the fastest PR in the field," Ribich said. "I also knew I had the fastest 800 time in the field, so I was confident in my kicking ability."
Ribich held off Medina for the win. And finally, after months of nonstop training that began last August, Ribich could exhale and take in the moment.
"It's surreal to get the title," he said. "This win it's like relieving pressure off my shoulders."
The pressure he felt didn't come from coaches or teammates.
Rather, it was the self-induced pressure to take advantage of a chance to give back to the sport he's fallen in love with — and to inspire others that they can do the same.
—
Ribich's ability to handle pressure started young.
Ribich wanted to be in the spotlight in junior high — just not as an athlete.
"I wanted to be an actor," Ribich said. "My mom and I took acting classes when I was in junior high. We would drive an hour and a half from Enterprise to La Grande to take classes."
The peak of his acting career was when he played a king — although probably not the take the director of the play originally envisioned.
"The king was supposed to be this macho role and I was maybe 4-foot-5," Ribich said. "The queen was a senior in high school and around 5-foot-10, but I just embellished the role. It was more like Lord Farqua from Shrek."

The acting career never took off, but his belief that small-town life doesn't mean you have to have small-time dreams foreshadowed what would drive him throughout his running career.
—
Ribich has a chip on his shoulder. His hometown, Enterprise, is a city with a population of 1,940, according to the 2010 Census. He didn't come from a high school that was rich with athletic traditions.
Western Oregon was one of the only universities to show interest in Ribich coming out of high school. No Division I schools made a scholarship offer to him.
All that just added fuel to Ribich's fire. He was out to prove that where you come from doesn't have to define your success.
"I think (since high school) I've always wanted to do something with running that could serve as inspiration for kids coming out of high schools, small schools especially," Ribich said.
That gives him extra motivation to go a little harder on training runs during the summer months or to do a little more during the winter.
It's why he serves as a counselor at a running camp at the Steens Mountains during his only two weeks off from training in July.

His victory Saturday was validation of the message he's been trying to tell people — that it doesn't matter how big or small of a town you come from.
"I'm not running this to win an individual title for myself," Ribich said. "I'm trying to make a statement that you don't have to go to a large university. You can go to a small school and have that same feeling and success. I need to stay focused and stay humbled. I'll train and try to defend, but also remember I'm doing this for a lot of people and a lot more than just a trophy."