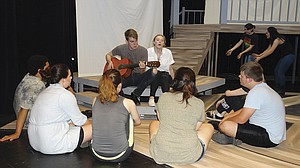 MONMOUTH — Western Oregon University's theater department's production of, "This Girl Laughs, This Girl Cries, This Girl Does Nothing," is a fantastical fable that depicts three sisters and their journeys through life.
"It reminds me that life has befores and afters," said guest director Jen Rowe. "That every day is a chance to start a new opportunity, a new journey. That we are blessed with joy and fulfillment in our lives."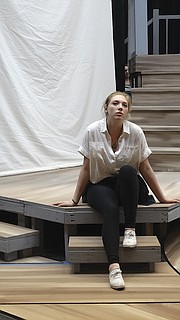 In the play, the audience is introduced to a family faced with heartache and deep depression when the mother dies suddenly. The father finds solace in a new marriage, but to make the marriage work, he must set his three young daughters free to find their own way.
See the show
What: Western Oregon University Theatre Department presents "This Girl Laughs, This Girl Cries, This Girl Does Nothing," by Finegan Kruckemeyer.
When: Wednesday (today), Thursday, Friday, and Saturday at 7:30 p.m. Matinee performances at 2 p.m. on Thursday and Saturday.
Where: Rice Auditorium.
Admission: $14 general; $10 seniors and faculty; $8 students.
"There's a way of demonizing the father and say he abandoned his children in the woods," Rowe said. "Then there's a way of saying, although they're young in this story, this father recognizes the resilience in each of them and chooses to let them go and grow up and start their life journeys."
With the news in the world today, Rowe said trusting and letting go of children is a big ask.
Instead of going home, the three sisters, played by Lindsay Spears, Natalie Doerfler and Chynna Shurts, live up to their father's expectations, each experiencing the world on their terms.
The play itself presented many challenges to both Rowe and her cast of 18 student-actors. One reason is because the script has no direction and very little restrictions.
"It's very ensemble," Spears said about the play. "Everybody has such a big part in it. We all come together to create these crazy images. There's a scene toward the beginning where a lighthouse crashes into the ocean and becomes a submarine.
We all got to come together to create this scene with people rather than with props."
The production is a collaboration between the director, cast and crew, Rowe said.
Dorian Parker, who plays the mother, said Rowe would often ask the cast to take 20 minutes and figure out part of the scene.
"We've done a lot of work as a group together to become really tightknit and a hive-sort of mentality," she said.
The story is about lifting each other up rather than tearing each other down, Doerfler said.
"The entire show is about emotional honesty," said Mindy Mawhirter, who plays the stepmom. "These are real people who have real experiences. Even though they may be fantastical, it's about the real people having real experiences."
Actors encourage people to come with an open mind.
"Any part of this journey can help anyone with their journeys as well," Meghan Doerfler, who plays the sun, said, adding that the story is relatable to an audience of all ages, not one specific age group.
"My boss was asking me if his kids can come," Meghan Doerfler said. "My grandma was like, 'Well, do you think I'll enjoy it?' Yes, 100 percent."
Rowe said that is one thing she enjoys about this fable.
"I think this would be a wonderful show for kids," she said. "As a show producer, this is the only show that hasn't had a recommended age limit of above 16. This is a departure for me, which is really exciting for me as a director. It's a script that speaks to me. I feel like it would speak to me at any age."
"This Girl …" is a limited run, opening Wednesday (today) at 7:30 p.m. and running through Saturday.