Wednesday, November 22, 2017
Rope Busters coach Jim Dent honored
DALLAS —Jim Dent, the longtime coach of Dallas Rope Busters, was recognized by the American Heart Association at an assembly at Lyle Elementary School on Nov. 3.
He received the award for his support of the "Jump Rope for Heart" campaign.
Rope Busters is an after-school jump rope club in which students learn to do jump rope tricks on their own or in teams. The club practices regularly and performs at school functions and sporting events.
The AHA presented him an appreciation award for the "Rope Busters 35 year of continuous and outstanding support of the American Heart Association's Youth Programs."
Hughes named Distinguished Educator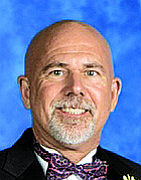 DALLAS — LaCreole Middle School math teacher Brian Hughes is October's Distinguished Educator. Hughes received the award on Nov. 15.
His students listed his best traits as a teacher, "He motivates us to do our best in math" and "He likes to make the classroom joyful." Another student said he "inspires students to do their best," while another added "I like how he always makes me happy when I am sad."
The Distinguished Educator Program recognizes "excellence in teaching and learning" in Dallas School District schools.
Morrison receives grant for internships
DALLAS — Morrison Campus Alternative School received a $28,000 Polk County Business Development G Grant to establish a new internship program with local businesses.
"It's going to be strictly for working on developing internships and help our kids go from schools to careers. We're really excited for the opportunity," said Morrison Principal Brian Green. "We will have the opportunity for 38 different placements throughout the year."
The Polk County Board of Commissioner approved the grant in late October.
Green said the money will provide a stipend for each student who completes the eight-week program and assistance if student require special shoes or clothing for their internship.
"This is a pilot program and we are looking to grow this," Green said.
Dallas Education Foundation issues grants
DALLAS — Twelve teachers in Dallas school were awarded grants for classroom supplies or projects in Dallas Education Foundation fall grant distribution. This year, the foundation raised it maximum grant from $500 to $1,000.
This year's grants total $9,003, with $4,000 of that donated by the Dallas Community Fund.
Grant were awarded to: DHS Brandi Dickerson, DHS, microscopes for biology department; Barb Buchan, Lyle third-grade math power points; Melissa Glazner, Morrison, science lab supplies; Kelleigh Ratzlaff, DHS, blenders for Culinary Arts; Brian Rebischke, Lyle and Oakdale, contra bass bars G and F, and mallets; Jacob Gradek, LaCreole, circuits and electric motor materials; Amy Morrison, LaCreole, tools and materials for STEAM, STEM; Amy McFarland, LaCreole, learning aids for students; Robert Mahoney, DHS, 4K TV for visual media class; Jacob Gradek LaCreole, genetics and embryonic lab supplies; Brandy Dickerson, DHS, Buzzers for Hi-Q Science Team; Malynda Shook, LaCreole, watercolor and paper cutting supplies.

For more information or to make a donation to Dallas Education Foundation, go to: https://www.dallaseducationfoundation.com/. Donation can be mailed to Dallas Education Foundation, P.O. Box 392, Dallas, OR 97338.
OSBA honors Wahl, Williamson
SALEM — Donn Wahl, a member of the Central School Board, was among 10 locally elected board members recognized with a silver award for completing coursework through the Oregon School Board Association's leadership institute.
The awards, presented Nov. 11 at the OSBA's 71st annual convention in Portland, recognize board members for significant levels of achievement in leadership and development, according to a press release from the OSBA.