Wednesday, November 29, 2017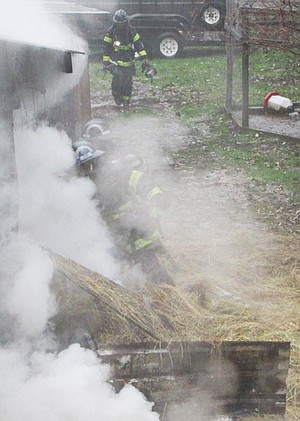 FALLS CITY – An All-terrain vehicle malfunction started a barn fire on the 18000 block of Oakdale Road outside of Falls City on Saturday.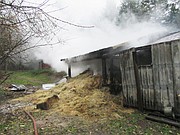 Shortly after 2 p.m., the Falls City Fire Department responded to the blaze, which was called in by the barn's owner, according to a Falls City Fire press release.
Once on scene, firefighters rushed to rescue animals and battle the fire.
According to Falls City Fire, the cause of the fire was determined as an ATV that malfunctioned when the property owner attempted to start it inside the barn. The family lost a turkey and chicken in the fire and the barn is no longer usable.
One firefighter suffered a minor cut on the head while on scene.
Twenty-three firefighters responded from Falls City, Southwest Polk and Polk County No. 1. Crews from Salem Fire Department, Amity Fire District, and Adair Rural Fire and Rescue provided station coverage as local departments put out the fire.
The Polk County Sheriff's Office provided traffic control and Pacific Power was on scene to disable a power line.