Wednesday, October 4, 2017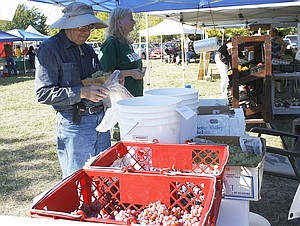 Job fair coming Tuesday
The Behavioral Care Network will host a job fair Tuesday from 3 to 7 p.m. at 4001 Winema Place, Bldg. 48 (room 210), Salem.
The fair is open to individuals seeking employment with agencies providing mental health and addiction services in Marion and Polk counties.
Agencies in attendance will be looking to connect with licensed social workers, licensed professional counselors, certified alcohol and drug counselors, qualified mental health professionals and associates, prescribers, peers and administrative staff.
Job seekers are encouraged to bring multiple copies of their resumes.
Film event Friday
JN Films will hold a film event Friday from 6:30 to 8:30 p.m. at Faith Evangelical Free Church, 2290 E. Ellendale Ave., Dallas.
There is no cost to attend.
There will be live music, movies and more.
BodyVox to perform at WOU
BodyVox will perform Friday at 7:30 p.m. at Rice Auditorium at Western Oregon University.
A dance group that combines elements from cinema, folklore and dreams to bring All Hallows Eve to life.
Tickets cost $25 for adults in advance and $30 at the doors. Students cost $11.
For more information: www.wou.edu/smith/
Preparedness training
Christ's Church Methodist and Presbyterian United, 412 Clay St. W., Monmouth, is sponsoring a Family Preparedness Training session Sunday at 3 p.m. A CERT trainer will lead the session and will focus on how families can prepare for possible natural disasters.
There is no cost to attend.
For more information: 503-838-1724.
Fort Hoskins open house Saturday
The fifth annual open house at Fort Hoskins Historic Park will take place Saturday from 10 a.m. to 2 p.m.
Fort Hoskins is located in northwest Benton County.
There is no cost to attend.
Visitors can see the completed restoration work on the Commanders House. Siletz Tribe educator and historian Joe Scott will present on the realities of Native Americans with the incursion of white settlers. Doctors David Brauner and Kathleen Bryant will speak about research into the Fort's lifetime.
Walking trails and a farmhouse will also be available for viewing.