Wednesday, October 4, 2017
Republic earns industry award
CORVALLIS — The Solid Waste Association of North America named Republic Services' Pacific Region Compost Facility the winner of the Silver Excellence Award in the composting systems category. The compost facility processes more than 120,000 tons of residential yard waste, residential organics and commercial food waste each year, producing a compost used for area agricultural, landscaping and gardening purposes. In 2010, the PRC became the first Oregon compost facility in Oregon to be approved for special types of organics composting, including proteins, dairy and all food scraps.
The SWANA's Excellence Awards program recognizes outstanding solid waste programs and facilities that advance the practice of environmentally and economically sound solid waste management through commitment to utilizing effective technologies and processes in system design and operation, advancing worker and community health and safety and implementing public education and outreach programs.
Bank robbery suspect apprehended
POLK COUNTY — A suspect, identified as Richard Louis Whittington, 43, of Sheridan, is in custody after robbing a Salem bank and leading officers on a high-speed chase for approximately 25 miles ending in Polk County on Friday.
Salem Police officers were dispatched to Key Bank, 1500 Edgewater St. NW at 5:54 p.m. on a report of a robbery.
Responding officers located the suspect as he was leaving the area in a black 1999 BMW sedan.
Officers attempted to stop the suspect when he fled westbound on Highway 22, reaching speeds of more than 100 mph.
The suspect drove into Polk County, and Polk County deputies continued to pursue the suspect as he drove past Dallas and turned north onto Red Prairie Road in Sheridan. The suspect crossed Highway 18 before crashing into officers with the Grand Ronde Tribal Police. The suspect attempted to flee on foot but was apprehended. No injuries occurred.
Salem Police detectives and special agents with the Federal Bureau of Investigation are continuing the investigation.
River Gallery presents Local Waters

INDEPENDENCE — The River Gallery, 184 S. Main St., Independence, in a joint effort with the Luckiamute Watershed Council, presents Local Waters. The show features local artists expressing the diversity of the streams and wetlands and their connection to the richness and abundance of wildlife and landscape. The show runs through Nov. 3.
Two events are planned around the show. Saturday from 5 to 8 p.m. a fundraiser for the LWC, featuring food, spirits and local music, will occur at the gallery. On Oct. 14 from 6 to 8 p.m. a reception for the Local Waters artists will be held.
For more information: www.rivergalleryart.com.
Person of interest located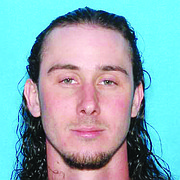 POLK COUNTY — The Marion County Sheriff's Office located and arrested Timothy J. George on Sunday. George was lodged on a previously issued warrant for unauthorized use of a motor vehicle. George was considered a person of interest connected with an officer-involved shooting.
A Polk County deputy attempted to stop a 1996 blue Honda Civic on Wallace Road in West Salem on Saturday. The driver fled and a pursuit began through West Salem and into Northeast Salem. The pursuit ended at the intersection of Oak Park Drive NE and Mooreland Avenue NE in Salem where shots were fired. The driver fled the scene in the Honda, which was found abandoned nearby.
The officer-involved shooting is still under investigation, and no further information was available as of press time.