Wednesday, October 11, 2017
Did you know that Oregon is ranked second highest in the country for breast cancer rates?
Nationally, an average of one out of eight women will develop invasive breast cancer, but Oregonian women's risk is slightly higher.
About the authors
Pam Short and Diana Hostetler are mammographers at West Valley Hospital with more than 35 years of collective experience.
They look forward to serving you.
The word "cancer" can be scary, but the good news is that finding breast cancer early greatly improves your chances for survival.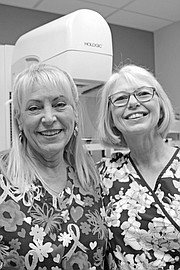 Whether deciding when to get tested or facing a diagnosis, a little information can help make the recommendations, choices and varying guidelines easier to navigate.
For women in the U.S., breast cancer death rates are higher than those for any other cancer besides lung cancer.
While most patients are female, it's important to remember that we do see men with breast cancer as well.
A man's lifetime risk of developing a breast cancer is about one in 1,000.
There are several types of imaging available, which include digital mammography, digital breast tomosynthesis (commonly known as 3-D mammography), magnetic resonance imaging and ultrasound.
Mammography is the standard imaging examination for breast cancer detection, reducing breast cancer mortality by approximately 49 percent in women who are screened.
A yearly mammogram improves your chances of survival.
Though you may have no outward signs of breast cancer, mammography can find tumors that are so small, it would be unlikely they would be found during a self-examination.
Finding breast cancer early reduces its chance to become invasive or get into the lymph system.
Did you know that 75 percent of women who receive a breast cancer diagnosis have no factors that place them at risk of breast cancer?
Additionally, less than 15 percent of women who get breast cancer have a family member diagnosed with it, but the risk nearly doubles if she has a first-degree relative (parent, sibling or child) who has had the diagnosis.
West Valley Hospital follows the suggested screening guidelines of both the American Cancer Society and the American College of Radiology. These recommendations are:
• All women ages 40 to 74 should have an annual mammogram.
• Women age 75 or older should continue screening with mammography for as long as they are in good health and expected to live an additional 10 years or longer.
• Women at higher than average risk should have annual screening of mammography by age 30, but not before age 25.
With your care and comfort in mind, West Valley Hospital's Breast Health Center sets 30-minute appointments for yearly mammograms.
Some patients might find the exam a little embarrassing or uncomfortable, but having 30 minutes gives us time for the individual attention you deserve.
We know that you will be back each year for your annual screening, and we want to get to know you on a personal level.
West Valley Hospital imaging also offers bone density dual-energy X-ray absorptiometry, X-rays, magnetic resonance imaging (MRI), computerized tomography (CT) scans and ultrasounds.
In closing, we hope that you'll be back each year for your screening.
Remember not to count yearly mammograms out just because you're over a certain age.
Two ladies at age 97 walked to their appointment because they gave up driving — it's that important.
Increased awareness and information is your key in determining what your best breast care choice should be.
Here's to your health.