Wednesday, September 6, 2017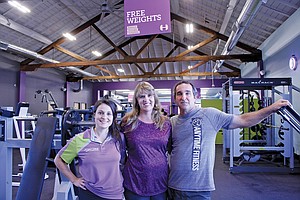 DALLAS — Michael Davis hasn't gotten a lot of sleep lately.
Davis and his wife, Kelly Davis, recently opened their new Anytime Fitness location on Main Street in Dallas, and the remodel has been his life for months.
"We are still trying to get the finishing touches done. We just couldn't get it all done before we had to be out of the old building," Kelly said. "We had to move in before we were completely finished. It'll be another two weeks, and we will be done."
Anytime Fitness
Where: 740 Main St., Dallas.
Contact: 503-623-1131.
For more information: www.anytimefitness.com.
Michael's full-time job is as a contractor, so he and a small crew of family did most of the work on an extensive remodel of the gym, located in the former Plain & Fancy shop.
On occasion, he and his son would work for more than 36 hours at a time.
"We basically destroyed everything, and then my youngest son and I pretty much put it back together," Michael said. "We've done everything. We did the demo. We poured the concrete floors. We framed everything back in, insulated, painted, hung the doors, did all the finish work."
He installed a new roof and took out a second story in part of the building, which was built in 1910.
"It leaves all of what would normally be hidden exposed on the inside, which is kind of unique," he said. "It's got little rough ends here and there, but it is a 107 years old. It's entitled to have a few rough ends."
The building has housed many businesses in its time — a gas station, car dealership, hardware store and gift shop — and Michael found several relics from its past lives. Kelly, who was born in Dallas, plans to create a shadow box and timeline that will document the history of the building.
"We would really like to showcase what this building has been for the last 107 years," she said.
Michael said a few members stopped by as it evolved from gift shop to gym, and a few seemed worried about the opening timeline.
"They would have this puzzled and confused look and would ask, 'When are you going to open?'" Michael said.
But the family made it work. Kelly took a vacation from her full-time job at a dentist's office to help with the move and make sure the transition was smooth.
The new location provides about 2,000-square feet of space for equipment, a larger classroom and a designated parking lot.
Now that they own the gym building, the couple has more freedom to make changes as they see fit.
"We have some pretty good exposure on Main Street, and we were able to take a building that was just sitting here and make it to something practical," Michael said.
That is another highlight to the new location. Kelly and Michael said they want their business to be part of the slow rebirth they see happening in the city's core. Their hope is the move will have their members spend more time downtown.
"Our wish is for downtown Dallas to be revitalized," Kelly said.