Wednesday, September 6, 2017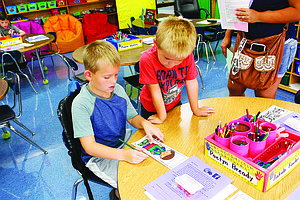 Student to speak about Finland
Joy Douville, a junior at Dallas High School, will present about spending a year in Finland Tuesday at noon at the Dallas Civic Center, 945 SE Jefferson St., Dallas.
Meals will be served for $11 and drinks will be available for $3.
Gideons provide opportunity

The Gideons, who are responsible for putting Bibles into hotels, are looking for Christian men to become involved.
An informational lunch will be held Sept. 16.
RSVP is required. To RSVP or for more information: Beverly, 503-420-4442.
Art of finger painting offered
The Ash Creek Arts Center's Second Saturday family art activity will feature the art of finger painting with Berik Bassline.
The class will run Saturday from 2 to 4 p.m. at the Ash Creek Arts Center, 311 S. Monmouth St., Independence.
There is no cost to attend. Bassline will teach hands-on painting techniques and an outlining exercise. Younger children will need the assistance of an adult.
For more information: ashcreekarts@gmail.com.
Local Waters art deadline extended
The deadline to turn in artwork for the Local Waters art show has been extended to Sunday.
The Local Waters show will run Oct. 3-Nov. 3 at the River Gallery in Independence.
The event will be a juried show of 2D and 3D art work that expresses the diversity of streams and wetlands and their connection to the richness and abundance of wildlife and landscape.
Images must be submitted by email with high resolution .jpeg images.
Jury fee is $25 for up to three pieces by an individual artist.
The artist is responsible for delivery and pick up of work to the River Gallery. The Gallery retains a 40 percent commission on all work sold.
For more information: Rglocalwaters@gmail.com or 503-838-6171.
Library to host free movie for adults
Dallas Public Library, 950 Main St., Dallas, will host a free movie for adults Thursday at 7 p.m. The film will be a 2017 release based on a New York Times best-selling book.
The movie is open to people ages 14 and older.
Flight rally on Saturday
The Young Eagles will hold a flight rally Saturday at the Independence Airport. Registration begins at 8:30 a.m. Participants will learn how airplanes fly, a chance to fly using a simulator and ride in a plane.
The rally is open to children ages eight to 17.
For information: www.eaa 292.org/young-eagles.