Wednesday, September 6, 2017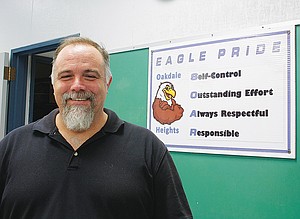 DALLAS — Tuesday marked the beginning of a new school year and a new school for Oakdale Heights Elementary School Principal Todd Baughman.
Baughman held the same position at Lyle Elementary School for 13 years.
"I'm really excited to work with this new team," Baughman said Friday as teachers, staff, and construction crews rushed to get the building ready Tuesday's arrival of students.
The 2017-18 school year will be a transition for Baughman and Oakdale. Construction at the school won't be finished before school begins, so students will have to use temporary detours around the multipurpose room that won't be complete for a few more months. Students will have to wait what a few weeks to break in what they will think is the best "renovation."
"The playground is much improved," Baughman said. "The kids are going to be excited to see all the new playground equipment. Unfortunately, it won't quite be ready for the beginning of the year."
Construction on the multipurpose room will continue until January, as originally planned.
Crews worked feverishly last week to get the front entrance ready for Tuesday's "Orientation Day," a day-long open house in which students and parents can bring school supplies, meet teachers and get information on bus routes and school lunches.
Workers were still paving the sidewalk and working on the roof and siding of the entrance Friday.
"If everything goes according to what we've been planning and hearing for the last couple of weeks, we are on track, just in the nick of time," Baughman said.
He said his switch from Lyle to Oakdale has been smooth. He began spending time at Oakdale in the spring, gradually getting the point where he was there every day.
"Our mission is the same at both of our K-3 schools. We have shared practices, instructional practices across both schools," Baughman said. "We work a lot jointly. The K-3 schools, our staffs are together frequently for trainings and get togethers to share ideas and support each other."