Wednesday, September 6, 2017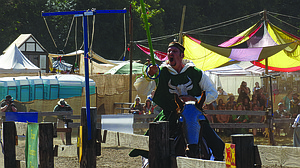 KINGS VALLEY — Calling all lords and ladies: the 22nd annual Shrewsbury Renaissance Faire is coming to Kings Valley once again Saturday and Sunday.
For those who have never experienced the faire before, each year gates open a few miles south of Pedee where people can travel back in time to the English Renaissance.
A Time Warp
What: Shrewsbury Renaissance Faire.
When: Saturday and Sunday, 10 a.m. to 6 p.m. Jousting tournament shows are at noon and 4 p.m. each day.
Where: Kings Valley, near the Polk-Benton county line.
Admission: $11 for adults; $5 for seniors and children ages 6 to 12; Free for children 5 and younger.
Of note: For VIP tickets email shrew@shrew
<
p>faire.com
with the subject line "I want to be a VIP."
For more information, driving directions and a $1-off admission coupon, go to
www.shrewfaire.com.
Time-appropriate attire is optional, but will have to be brought by those wishing to dress up, as "garb rental" will not be available this year, fair co-organizer Adrian Hughes said.
But dressing up is only a small part of the fun — the faire is filled with activities for those young and old.
"If you have small children we have the rat catching game, and all the kids get to play for free — give them a bracelet and a rat catcher's license," said fair co-organizer Jackie Hughes.
Throughout the fairgrounds are rat-masked individuals that the rat catchers can "catch" to earn a prize at the end of the day.
There is also a maze, a puppet theater and sword fighting lessons for kids — among other daring adventures, like squire training.
For adults, there is a wooing contest each day, as well as a prize for the "Best Calves in the Shire."
For those who prefer to observe rather than participate, there are lots of options for entertainment as well. The faire has a number of acts making the rounds at their various performance areas.
"All of our favorite acts are returning this year, and we do have some new ones as well," Adrian said. "All our acts rotate all the stages, so you can pretty much stay in one place with a big mug of something and the entertainment will come to you. I've certainly enjoyed doing that in the past."
This will be the last year to see the Cascade Mounted Archers. The troop's final performance will be at Shrewsbury this week.
"It's Mongolian archery on horseback, and it's really cool," Jackie said.
Though gates are open from 10 a.m. to 6 p.m. each day, Adrian recommends arriving early for a special treat.
"If you get there just about 20 minutes early, we put on an opening show to keep people entertained while we're going through the line," Adrian said.
No matter what time patrons arrive, they come prepared to go without modern technology for purchasing or communicating.
"There are no ATMs, there's no cellular service. So be prepared to bring cash and fill up on your gas before you get out here," Jackie said.
One more thing that won't be found at the faire: pets. Service animals are allowed, but personal companions should stay at home.
"It gets very hot here at the end of the year, around harvest festival time," Adrian said. "Every year we get someone who doesn't get the 'no pet' policy and they leave their dog in the car."
For humans seeking relief from the heat at the faire, Jackie and Adrian suggest they explore the shaded forest area, which can be found across the recently installed footbridge.
"We have been opening up progressively over the last few years a shaded forest area," Adrian said. "This year we have much more space opened up, we expect to have a lot more shade for our patrons."
There will also be a number of food and drink vendors, including a cider house and, of course, grilling.
"Can't go to a renaissance fair without having a turkey leg," Jackie said, chuckling.