Wednesday, September 6, 2017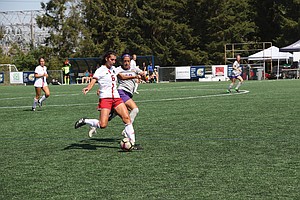 MONMOUTH — Western Oregon women's soccer coach Steve Ancheta knows WOU is a work in progress.
The Wolves opened the season by falling to Biola 3-2 in double overtime on Thursday and San Francisco State 3-0 on Saturday.
"We have a young team," Ancheta said. "We have 11 new players added and lost nine seniors from last year. I thought the two opponents we saw are very talented and very athletic. With San Francisco State, I'm thinking they can be a playoff team. They have some nice talent out there. They were great games for us to play and it was a learning environment for us."
Against Biola, Dana Jacobs gave WOU a 1-0 lead in the 14th minute. After Biola tied the match, the Wolves retook the lead after a goal from Kennedy Clay just before the half.
But WOU would not register another shot the rest of the way, and the Eagles tied the match again in the 71st minute before scoring the game-winning goal in the 104th minute.
On Saturday, the Wolves saw several scoring chances, but could not find the back of the net.
"We had some good chances," Ancheta said. "We're happy with the progression. Ultimately, it's a loss, and you can't change that, but you have to keep moving forward. I think we did that from the first match to the second."
Both matches had to be moved to the Capital City Soccer Complex in Salem because Western's home field on campus was not ready for play.
"The field will be nice once it's ready," Ancheta said.
WOU hosted Northwest Christian Tuesday after press time.
The Wolves play at Hawaii Pacific on Friday and at Chaminade on Sunday to finish its nonconference season.