Tuesday, September 12, 2017
DALLAS — A Dallas man is in Polk County Jail after being arrested Thursday on bank robbery charges.
Caleb McKean, 36, is facing one count each of third-degree robbery, a felony, and second-degree theft, a misdemeanor. He was scheduled in be in Polk County Circuit Court on Tuesday after press time. he is being held on $50,000 bail.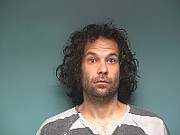 Officers responded to a report of a bank robbery in progress at the Dallas Bank of America, 791 Main St., at 9:48 a.m., according to Dallas Police. Polk County Sheriff's deputies also responded.
According to the probable cause affidavit of the incident, McKean went to the bank on Sept. 6, the day before the robbery, to take money out of his account.
The teller told him his Bank of America card wouldn't allow access to his account, and he refused to provide identification.
McKean said he would return.
When he returned, he still couldn't access his account.
"(The teller) said he was angry and demanding money," the report said. "He was not armed and did not have any weapons. … She felt threatened because he was angry, aggressive and demanding."
McKean demanded money out of the teller drawer and, believing employees were in danger, the assistant manager began to take money out of the drawer, according to the report.
"The man reached over the counter and grabbed the money from her hands," the report said.
He left the bank and officers found McKean three blocks from the bank, running on the street where he lives.
He threw $714 in cash on the ground before officers apprehended him, the probable cause report said.
The incident is under investigation by the Dallas Police Department in cooperation with the Salem Office of the FBI.