Wednesday, September 13, 2017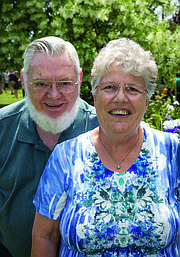 Bob and Georgeann Burns will celebrate their 50th wedding anniversary on Sept. 16, 2017.
A celebration will be held on Sunday from 1 to 4 p.m. at the couple's home.
Bob and Georgeann married in Shell Beach, Calif. in 1976. They lived in Pennsylvania and California before moving to Dallas in 1981.
Bob spent many years as a cable television technician and now works at Walmart building bicycles and furniture.
He also plays Santa Claus at Christmas, sporting his own snowy, white beard. Georgeann has worked at Grandma's Attic Sewing Emporium since it opened. She spends the majority of her free time with her grandchildren.
Their family includes daughter and son-in-law, Kin and Lonnie Thurston, of Salem, and son and daughter-in-law, Brian and Amber Burns, of Perrydale. The couple also has 10 grandchildren and three great-grandchildren.