Wednesday, September 13, 2017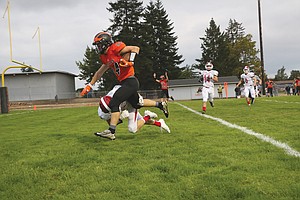 DALLAS — Up 7-0 in the first quarter, Dallas' football team faced an early gut check.
North Eugene had a first and goal from inside the Dragons' 5-yard line.
Dallas' defense was fired up.
"We wanted to choke them out and keep them from scoring," Brycen Grillo said.
Four plays later, the Highlanders' offense left the field without scoring.
The Dragons made North Eugene pay, marching down the field for a quick touchdown.
Dallas took control of the game early and was on its way to a 54-0 victory on Friday.
"It gave us a boost," coach Tracy Jackson said. "We have kids with a lot of pride that didn't want to give up a touchdown. I think last week we coasted a little bit (against Parkrose). We didn't coast tonight."
Evan Courtney had seven carries for 91 yards and two touchdowns, and five different Dragons scored rushing touchdowns during the rout.
"The offensive line got us some big holes," Courtney said. "They set this team right. We're a ground-and-pound team. We're running down people's throats — that's what we did tonight."
Courtney, who played at wing last year, was going to remain at that position at first.
"A couple coaches said we have to move him to tailback," Jackson said. "And you know what? He's a first-class tailback. Him, Brycen, they don't go down just because you tap them. They'll fight."
Courtney has led a potent rushing attack. Through two games, he has 298 rushing yards and three touchdowns.
"Personally, I like to be a little shifty," Courtney said. "But when the time comes, I'll run people over."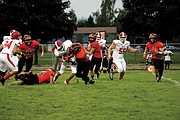 Courtney's emergence — along with the Dragons' stable of running backs — gives Dallas depth and a shot for some new faces to make a big impact on the field.
"I think because we had guys like Aaron White and Jake Collins and Tanner Earhart, you just never had a chance to see what some of these guys could do," Jackson said. "Now, they're getting their opportunities. Right now, I'm glad we have depth. We don't have to run any single guy into the ground because no one else can play."
The Dragons didn't throw often — quarterback Jaret Stewart had three completions — but when they did, it was successful. Stewart threw a pair of touchdowns, a 49-yard strike to Treve Earhart and a 22-yard pass to TJ Dimick.
"We've got a 6-foot-4 quarterback," Jackson said. "We'll throw when the opportunity is right."
Everything seems to be going right for Dallas so far. Through two games, Dallas has yet to give up a single point, while combining to score 94.
But accomplishments during nonleague contests will mean little on Friday.
Dallas travels to Silverton to open Mid-Willamette Conference play in what Jackson expects to be a tough challenge.
Quarterback Levi Nielson has thrown for 321 yards and four touchdowns in two games for the Silver Foxes, and receiver Spencer Clements has 11 catches for 150 yards and three touchdowns.
"The thing about a good quarterback is he can get the ball down the field quickly," Jackson said. "Silverton has good enough athletes that can turn plays into big gains. It's going to be a challenge. We're going to have to get after (Nielson) the best we can."
Silverton defeated Sandy 23-17 on Sept. 1 and Redmond 45-6 on Friday to open the season.
"It's going to be a fight," Jackson said. "We've got to keep making steady improvements, but I'm proud of the work our guys did this last week. I think we had a few letdowns the week before. There were no letdowns tonight."