Wednesday, September 13, 2017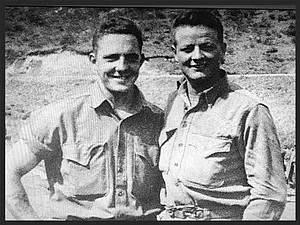 MONMOUTH — After a 12-year search, Kevin Coady finally found the family of fallen U.S. Marine Pfc. Jack Carl Kightlinger.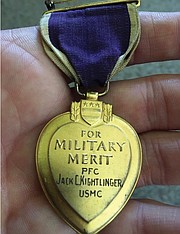 Kightlinger was killed in the Korean War in 1951 at the age of 23. He was awarded the Purple Heart for his sacrifice. The medal is engraved with the phrase "for military merit" and recognizes those wounded or killed while serving in the military.
At some point, the award was lost.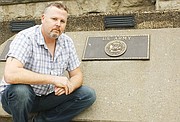 Coady, of Monmouth, has had Kightlinger's Purple Heart since 2005. A local couple had found it at a garage sale in Berkeley, Calif., in the 1970s. They weren't sure how to get it back where it belonged, so they gave it to Coady to find the owner. They told him that they bought it for a quarter.
A medic in the U.S. Army at the time, Coady followed a family tradition of serving in the military. His parents met in the Army, and he and his two brothers enlisted.
He felt a duty to return the medal.
His search led him to conversations with people who served with Kightlinger, including one, Floyd Swift, who sent him photos of Kightlinger when he was in the Army.
"His mother died in 1983. I ran out of leads. This is in 2005," Coady said.
An answer to prayer
The trail went cold until Easter 2017.
It's that day Coady discovered an organization that reconnects veterans or their families with lost Purple Hearts, Purple Hearts Reunited. He sent a message saying he had a medal, but was at a loss for where to look next.
"Then I go to my mom's for the free Easter dinner, and I get a call," Coady said.
It's Zachariah Fike, the director of Purple Hearts Reunited.
"We found the family," Coady said, quoting Fike. "I'm like, you're kidding me. It took me 12 years. Then I get a call from his great-niece."
Coady and Kightlinger's great-niece, Bernadine "Bernie" Ridgeway, connected in an emotional conversation.
Coady said the calls were an answer to prayer, truly, as his brother Dan often prayed for the medal's return to Kightlinger's family.
Once the realization that his mission was accomplished sank in, so did something else: He didn't know where the medal was in his house.
Easter was on April 16, and the medal was due to Purple Hearts Reunited on May 18, so he and a friend, Brad Talent, turned his house upside-down looking for it.
"I always kept it close to my heart, but the Army moved me from Salem to Monmouth," Coady said, explaining how it got misplaced. "I'm getting calls from back East: 'Have you found it yet?'"
"Still looking," he responds.
On May 17, as full-scale panic set in, Talent approached Coady with a DVD case.
"It says Mount St. Helens, May 18," Coady said.
At first, he thought his friend was teasing him about the date on the DVD, because the deadline was that day. But then something spooky happened.
"He opens it up," Coady said. "It's in there."
Coady sent it via FedEx and traveled to New York for a Purple Hearts Reunited ceremony in August during which the medal was presented to Ridgeway.
"It gives you goosebumps," he said of the ceremony. "It was honorable."
Coady was interviewed several times and bought his first suit for an appearance on Fox & Friends before the ceremony. During that segment, Ridgeway said Coady is now part of the Kightlinger family.
A new mission
Purple Hearts Reunited has returned more than 400 lost medals to veterans or their families. Coady said Purple Hearts are found all over — at thrift stores, at garage sales or are long-forgotten in people's houses.
Now retired, he's enlisted in spreading the word that the medals can — and should — be returned.
"Now I want to go to antique stores and find these medals. That's my mission, I think," Coady said. "It's such a good thing. It's so important. So important. People don't realize. They could look in their attics and dresser drawers and be surprised."
For more information on returning a Purple Heart or finding a lost medal, go to www.purpleheartsreunited.org.